GCSI Greens Up the District
By Mara Shapiro
February 15, 2012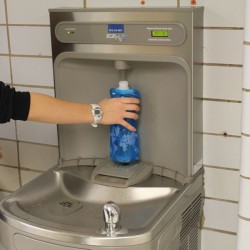 Have you ever wondered how the school came to own those special water bottle-fitted water fountains? Or the new outdoor classroom? Well, thanks to the district -wide club, Green Council for School Improvement,we now have these special, eco-friendly amenities.
The club was first started in 2009. Students and staff from Niles West, Niles North, and Niles Central comprise it with monthly meetings at North or West. The goal of the club is to make the three buildings and facilities,classes, and educations more environmentally friendly.
Guidance counselor and member Stephanie Hentz  said more students should be involved in the club.
"GCSI is an amazing way for students to have an impact, both short term and long term, on our district," Hentz says.
Every year students can participate in a grant process with an idea to make the schools better for the environment. Past winners at West have been the water bottle-fitted water fountains and the outdoor classroom. At North, an old greenhouse was restored. The deadline is Feb. 15. Students are allowed to work in groups, but they need an adult sponsor(can be a staff member or someone outside of school), and need to fill out a worksheet and register online.
"The projects come to a reality. The students throughout the year can see an impact…It's a rare opportunity where students are heard and ideas are made possible," Hentz says.
In  March GCSI will be teaming up with S.A.V.E.  club in the Reuse a Shoe Athletic Drive, which not only recycles shoes, but paint cans and batteries as well. And in  April the club hosts its annual Spring Greening event. This year it is at North. North and West and the village of Skokie are making the event possible. In the past, features have been a seed planting activity, learning to make compost, and a trashy fashion show.
If you want to impact the school environmentally, this club is for you. Email  [email protected] for more details about club meetings. You really can make a difference.