Niles West Plays are Hits
By Mara Shapiro
October 8, 2010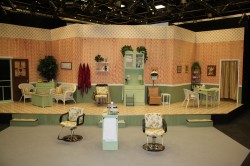 What makes a play successful? Does it incur emotions? Does it make you laugh? Does it make you think about life as you know it? Does it leave you glued to your seats? Niles West's most recent plays, Rabbit Hole and Steel Magnolias,  did all of this to me.
Let's take a turn down the Rabbit Hole, a quite insightful play centering on the family, specifically the parents, of a four-year -old boy who was killed in a car accident because he chased his dog into the street.  How can high schoolers possibly portray parents of a dead child? Junior Julia Zasso and Senior Alexander Krapivkin pulled it off perfectly as Becca and Howie.  Zasso had the clipped hidden anger of a grieving mother, and Krapivkin was the opinionated rock trying to hold his family together. Their acting really put me into the story so that I was never bored. Krapivkin had one particular scene, where his character Howie was telling Becca that he was sick of the way she was acting after their son's death. He screamed so loud that the audience, including myself, was awestruck.
Through this terrible tragedy, how can this play be funny? Junior Anahita Karimi and Senior Leah Hummel  made sure this happened. Karimi played Natalie, Becca's mother. In one scene, Natalie was going on and on about the Kennedy family and their tragedies. She then finished her story and told the family that that was an interesting talk about politics, when gossiping about a political family is nowhere close to "discussing politics." Hummel was fantastic as Becca's crazy sister Izzy, who opens up the play by bragging about how she punched a woman in the face at a bar.  Niles West Theatre really proved that you can put humor in tragedy.
Lastly, I really liked how the play let you see a character who you wouldn't ordinarily care to see, the person who ran over the little boy. This tough character, played by Junior Kyle Resurreccion, really made me look at him differently than I first would have. I appreciated that this character was represented. Overall, this play was very well acted and inspired many emotions.
Sophomore Rachael Kossy says that she, too, enjoyed the play.
"I really liked [Rabbit Hole] because it showed how people cope with death…[the actors] were able to do it without getting too sappy," Kossy said.
Steel Magnolias was just as big a hit. For someone who has seen the movie before, I can honestly say I enjoyed the play more. It, too, blended humor with tragedy, but with a bit more humor than Rabbit Hole.
This play centers around six Southern women in a beauty salon who come together after the loss of one of their own. One character, Shelby, played by Junior Lauren Langer, is a diabetic who desperately wants to have a child, though she was advised not too.  Her somewhat overbearing mother, M'Lynn, played by Senior Andrea Lupas, doesn't know how to react when Shelby actually does get pregnant. In the meantime, the four other characters take away from the worries.
Truvy, the owner of the salon who has a strict motto of "there's no such thing as natural beauty," with the hair to prove it, was played by Senior Jane Kim.  The quiet newcomer, Annelle, was played by Sophomore Merrick McWherter.  The sassy former governor's wife Clairee, was played by Senior Janae Bowman.  Lastly Ouiser, who has an obsession with her hairless dog Red, was played by Senior Becca Levy. All these actresses portrayed their characters with the correct amount of emotions to make your eyes never leave the stage.
Overall, I liked the way the play was done, and the actresses all had their Southern accents down without it being too much. The only thing I would change would be that I felt that Shelby's eventual death was a bit rushed. Aside from the rushed death the play was just as much of a success as Rabbit Hole.
Senior Sana Anwer said she really enjoyed the play.
"I liked how[ Steel Magnolias] showed how women are always gossiping and how women are so close," Anwer said.
Great job to the Niles West Theater Department for putting on two wonderful shows in one week.  In Steel Magnolias, Ouiser says that if she wanted to see a play she could nap at home for free. I was definitely not napping during either of these plays. I look forward to the upcoming theater season here at West.