Boys Soccer Team Takes Conference
By Nick Goldwyn
October 13, 2010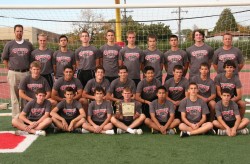 The Maine South Goalie was screaming. Why? Because one of the best players on the Wolves (senior star Thomas Villamil) was about to take a free kick from point blank range. The screaming didn't help, the goalie didn't gather his team's attention in time, and before there was an effective wall of players in front of the ball, Villamil had already shot and scored.
The disorganization and anger carried over to the rest of the game, the Wolves handily beat Maine South, 3 to 0, and in doing so, did something that hadn't been done since 2005. The Niles West Boys Soccer team won conference.
Junior Pawel Dabek had this to say about the conference-clinching game.
"The game went very well in our favor," he said. "We played as we were supposed to and followed the tactics laid out by the coaches. We also played like we usually did throughout the season. Maine South destroyed themselves with their frustration and anger. There were five yellow cards given to them (zero to us) and one kid got two so he also got a red card. It wasn't an easy game, but we fought through it and came out on top."
The game began with a few early chances for Maine South to go ahead, but after West settled in, hit their stride and scored their first goal, there were no scares from there. The first goal came off a beautiful give-and-go between junior Jaime Zepeda and sophmore Daniel Rozen. Zepeda passed to Rozen who scored with about 10 minutes left in the first half. The second goal came from Villamil just outside the box about 15 minutes into the second half. The third and final goal was scored by sophomore Christopher Tomuta with about seven minutes to go in the game.
Assistant Coach Eric Lueder said the team worked hard and deserved to win.
"We should expect to win conference not just compete," he added.
The Maine South Goalie was scared, and he should have been. Not just scared of Villamil and his free kick, but scared of the entire Niles West Boys Soccer team, a team that through October 12 was 13-2-4 on the season, and on a bit of a roll (two wins in the last two games). The Maine South Goalie was scared, but do you know who's scared now? The Goalie for North Side College Prep, the team West faces tonight at 6 at home.