Like to Dance? Like Flags? Join Winter Guard!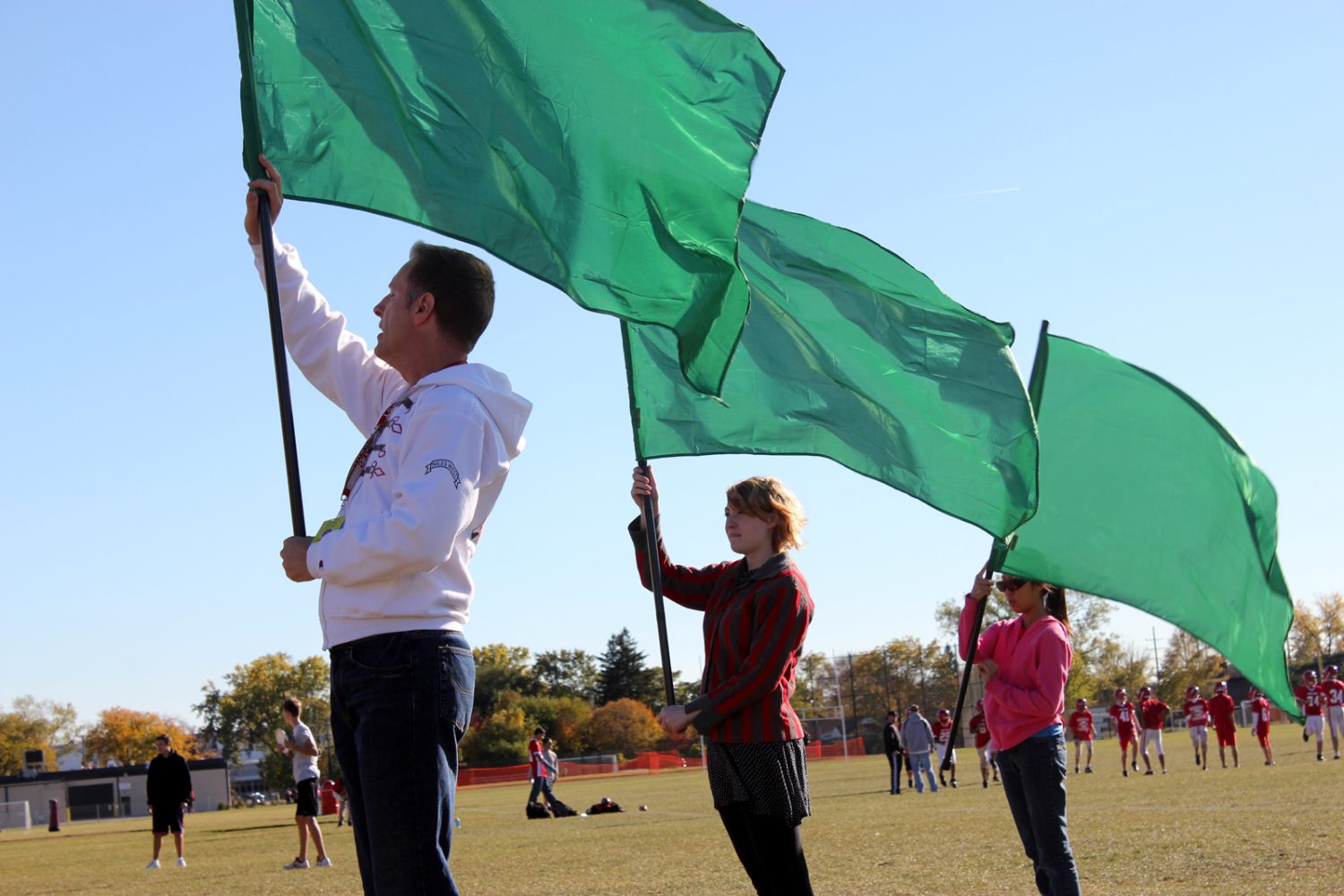 By Mara Shapiro
November 14, 2012
For those of you who have gone to varsity football games, you know that during halftime the marching band would perform with the color guard to amuse the crowd while the boys took a break. Did you know that Niles West continues Guard throughout the basketball season? It's called Winter Guard, and clinics  are around the corner.
The six girls who comprised guard were seniors Nicole Fujiwara, Danielle Edelstein, Glizyl Luna, and juniors Kelly Kaufman, Aisha Malik, and Dee Lam. Because there are only six girls, this means the number of bodies that audience members can focus on are more concentrated; every girl's movements counts. It's much easier to see a girl in a group of six mess up than a girl who is part of a group of twenty or thirty others. Though they don't perform tricks in the air like the cheerleaders or dance like the pommers, the color guard girls trained three times a week for their game-day-oriented sport.
The man who coaches the girls is Michael Vaughn. The girls all refer to him as "Michael."
While  asking Kaufman about her coach, she said to me, " When you say "Mr. Vaughn," I have no idea who you're talking about. He's just 'Michael.'"
Vaughn is a professor at DePaul. He is the man who started Color Guard at West five years ago. Vaughn was a member of his high school's color guard. He considers the biggest edition to the program the formation of winter guard, the basketball season version of color guard.
"Color guard is a marvelous opportunity to meet new people, make new friends, have a lot of fun, and it's a great way to perform," Vaughn said.
Guard performs various dances with moderately heavy black, green, and yellow flags. They, just as most dancers do, count off their moves by eighths to keep the rhythm and memorize the dances in a more efficient way.
Edelstein  feels that students should join Winter Guard because it's exciting to perform with flags in front of large crowds.
"Kids should join because kids would have fun playing with different flags. You also get to wear pretty uniforms," Edelstein said.
Kaufman adds that those who don't participate in sports can use Guard as a fun extra curricular.
"If you're not athletic, Guard teaches you how to march, dance, and the basic steps with the flags," Kaufman says.
The girls became a tight-knit family during the football season. One of their favorite bonding activities was  having a dinner pow wow in the band hallway's compact closet before heading out with the marching band to cheer on the football team.
"You get to perform in front of whole crowds," Luna said excitedly.
Lam is considering pursuing Guard in college. Lam particularly has been influenced by Guard because when she was in eighth grade, Guard came to her middle school and convinced her to join freshman year.
"It's a challenge every day, but it's fun," Lam said.
Fujiwara agrees.
"I've made many friends here. It's a challenge every day."
Vaughn agrees with the girls that joining either Color or Winter Guard is a great way to meet new people while partaking in a creative after school activity.
"It's a marvelous opportunity to meet new people, make friends, and it's a lot of fun. It's a great way to perform. The girls are some of the nicest girls I've ever worked with," Vaughn said.
Winter Guard clinics start after school on Wednesday, Nov. 14 in the dance studio.
"It's a lot of fun," Malik said.