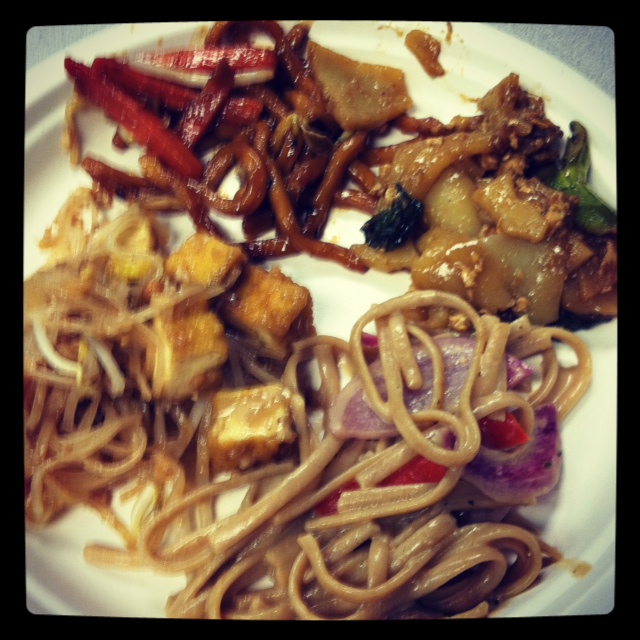 When people think of noodles, they often think of tasty-looking golden strings that come in perfectly round bowls at a place like Noodles & Company. While those may look delicious, they generally taste pretty bland unless it's from an authentic Asian or Mom-and-Pop restaurant. Thai food can provide the best alternative to big-name eateries like N&C that seem to sacrifice taste for appearance.
Four noodle dishes create a circle on my desk. The two visually appealing dishes are from Noodles & Company (located at 5681 W. Touhy): thin, wheat linguini mixed with fresh sweet peppers, portabella mushrooms, and Parmesan cheese. Next are the Japanese Pan noodles: thick and dark brown, surrounded by bright carrots and sprinkled with poppy seeds. Both dishes cost $18, the total coming out to $39.78.
Local Thai restaurant Tub Tim Thai (4927 Oakton St.,) provided two, mostly brown dishes: Pad Thai, with rubber-band looking pasta strands and Pad See Ewe, a non-traditional square noodle topped with chicken bits. Similar to Noodles & Company, Tub Tim Thai charged $42 total, which included a $3 delivery charge and four $8 orders (2 Pad See Ewe and 2 Pad Thai). Both restaurants provided about the same amount of food.
While Noodles & Company provided the more attractive dishes, the taste and texture of the chain's noodles did not live up to the authenticity of the dishes from Tub Tim Thai. The Japanese pan noodles were too doughy and oddly spiced, although my classmates disagreed, voting this dish their favorite. The linguini, while livened by samplings of different veggie flavors, was under-cooked and lukewarm. Tub Tim's Pad Thai, on the other hand, stood out with a slight sweetness and pleasant after-spice. Also, the mixed-in egg slivers and nuts created a unique and satisfying texture. The Pad See Ewe especially made me feel adventurous because of its non-traditional square shaped noodle and extremely squishy consistency. While the noodle's squirminess bothered some of my classmates, I found it an interesting change of pace as far as noodles go.
If you're looking for a food photo shoot, Noodles & Company is your place, but if you're in the mood to challenge your taste buds with some traditional Thai food, Tub Tim Thai is the favorable option.