WYSE Members Place at State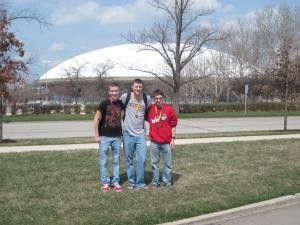 Senior WYSE members Patrick Liscio, Joe Darga, and Zach Cohen took home medals after participating in the WYSE state competition Monday, April 8 at the University of Illinois Urbana-Champaign.
Liscio took home first place in the mathematics category as well as fourth place in chemistry. Darga took home sixth place in physics and Cohen took home fourth place in biology.
WYSE coach and physics teacher Martha Lietz explained that making to the state competition and placing is a feat to be proud of considering the high levels of competition.
"Niles West is in a very competitive sectional, and those who make it to state from our sectional are among the best in the state.  They must, however, prepare for state competition as everyone who makes it to state has scored at least as well as they have in sectional competition," Lietz said via email.
Liscio was surprised by his chemistry score, seeing as he usually takes home medals in mathematics categories.
"I was very excited to find out that I had placed in math and chemistry.  I didn't really know what to expect, especially in chemistry, so I was glad to find out that things went as well as I did," Liscio said.
Darga had higher hopes for himself, but is overall content with his work.
I was a little upset that I didn't place higher. But, then again, I didn't do what I should have to place any higher or even place in chemistry. Ultimately, I'm happy that I was still able to get sixth in physics," Darga said.
Liscio is proud of his teammates' success.
"It was especially great that everyone who went to state was able to win something," Liscio said.
Darga agrees with Liscio.
"I'm proud of [Liscio and Cohen]  for their work and placing so highly in their events. Overall, it was a fun trip and I'm glad we all came out with a medal, two in [Liscio's] case," Darga said.
" They are bright, hard-working young men who did a good job preparing for state competition," Lietz said.