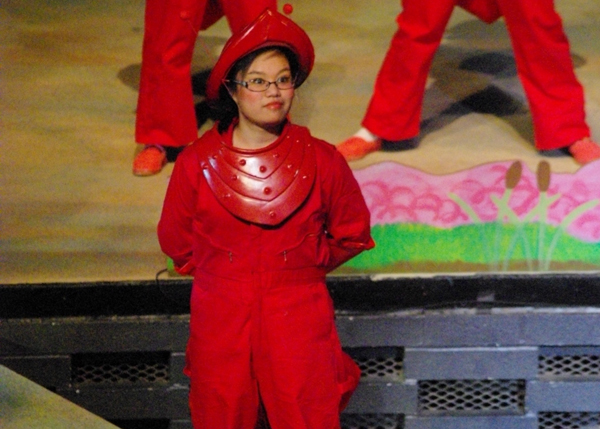 Maybe you've seen her walking around the halls carrying her suitcase sized container of cookies that she's selling for theatre, but more recently, you may remember her reading her original poem in the Martin Luther King assembly in January. Sophomore Thea Gonzales is as involved as one can be in the fine arts department of Niles West.
Other than being actively involved in band, theatre, and poetry slam, she also has to manage her packed class schedule. She's additionally a member of choir board, American Sign Language club, and thespian society.
"I like to be as busy and involved as I can be," Gonzales said.
It's easy to forget she's only a sophomore considering her involvement and courageous poetry reading at the Martin Luther King assembly. She's relatively new to poetry slam, given her year in high school, but she's already become quite an addition to Tribe Called West.
Fellow member and junior Stephanie Nahhas seems to think Gonzales is a great new addition to the club.
"She's amazing and very energetic. She knows how to make fun of a moment, as well as herself" Nahhas said.
According to Nahhas, all poetry slam team members were given the opportunity to potentially read a poem in the Martin Luther King assembly, but Gonzalez was the only one who stepped up with her own original piece.
"She's very confident of herself, and very willing to read her work in front of others. She amazing, one time she wrote an entire poem about the letter 'Q' in free write," Nahhas said.
Aside from her accomplishments in poetry slam, Gonzalez is also very enthusiastic about the theatre program, but that's only natural considering she's been in school theatre programs since the sixth grade. As a freshman at Niles West, Gonzalez was involved in a few productions whether it was an active role on stage, narrating, or even crew.
"I really love it. It's just an amazing amount of expression and freedom you're given in the program" Gonzalez said.
Music tends to go hand in hand with theatre, and Gonzalez has already immersed herself in that department as well. Her first instrument being the piano, she started out at an early age of four, and from there on out it snowballed. Fine arts has clearly proven to be the fit for Gonzalez given her accomplishments and involvement in the department so far
"As of right now I play the alto saxophone, bassoon, piano, guitar,and ukelele. Overall, I just want to do the best I can with my craft, reach as many people as I can with art or music, and just be a nice person. As for high school, I just hope to make the best of the time I have here, and take advantage of it while I have it" Gonzalez said.
You would think there wouldn't be enough time in the day for Gonzalez to squeeze in any more extra curricular activities, but she also manages to volunteer at a couple places in her spare time.
"In the summer I volunteer at Ravinia, but I also like to volunteer at the Skokie Public Library. They're wonderful over there," Gonzales said.
Gonzalez's hard work and balance this far into high school is all in hopes of achieving her post high school goal of going to Columbia University in New York City. Even though she's never been to New York to this day, that's soon to change. The theatre department is heading to New York City during spring break for the opportunity to see shows and see the well known city. Although it's a few years away, Thea is already thinking she'd like to double major in Environmental Science and Fine Arts.
"I also want to be involved in college, so I'll definitely be interested in joining an acapella group," Gonzales said.