Wolves Fall to Vikings on the Diamond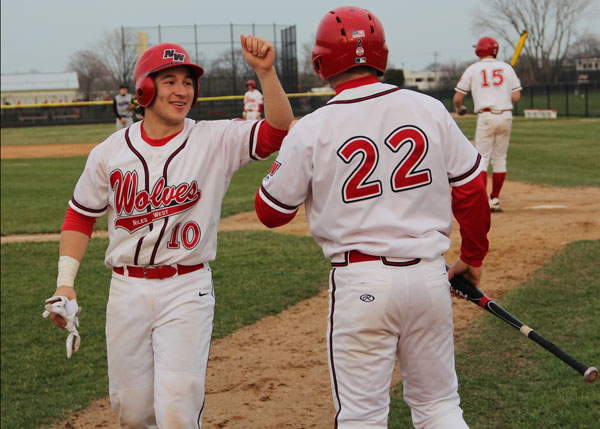 By Danny Thompson
April 21, 2014
Last Thursday evening, the wolves hit the diamond against arch rival Niles North in what ended up being an incredibly close and low scoring game with the Vikings winning 2-1.
The game began with senior pitcher Cody Pazik striking out the side on very few pitches, but the Wolves were unable to get anything done in the bottom half of the inning. The top of the second again began with a strikeout from Pazik, but the Wolves defense allowed the first base of the game after a batter reached on an error. The Vikings stole second and reached first on a walk before a deep shot to right scored the man from second and gave the Vikings a 1-0 lead. The Wolves went quietly in the bottom half of the inning: three up, three down.
Aside from a pair of singles in the top of the third, not much offense was seen from either side until the fifth. West started off the inning strong with a pair of strikeouts by Pazik, but after yet another error and steal of second, the Wolves were in danger of allowing the game to get away from them. Fortunately West's defense tightened up and got the last out of the inning at first to go into the sixth with the score still 1-0.
The Vikings got their leadoff man aboard on a short pop that dropped in between second and short stop, and scored him from first on an RBI double later in the inning, making the score 2-0 North. The bottom of the inning saw the Wolves only offense on the day with senior catcher Matt DeLaVega hitting a home run past the center field fence. Unfortunately, it was a solo shot and only closed the gap by one. The Wolves built off of DeLaVega's bomb and managed to get two more men on base, but stranded them both. The Vikings went down in quick order to start off the seventh and the Wolves managed to load the bases in the bottom of the inning, but for the second inning straight stranded all of their men. It was a close game decided by the slimmest margin with the Vikings taking it 2-1.
DeLaVega was disappointed with the team's defense and believes that cutting down on errors will go a long way to improve the team, but he is also optimistic about the rest of the season.
"I feel like since conference is coming up we are going to be seeing a lot better talent, and we will be stepping up our game a whole lot. I'm excited," said DeLaVega.