Digital Literacy Program Piloted as a Graduation Requirement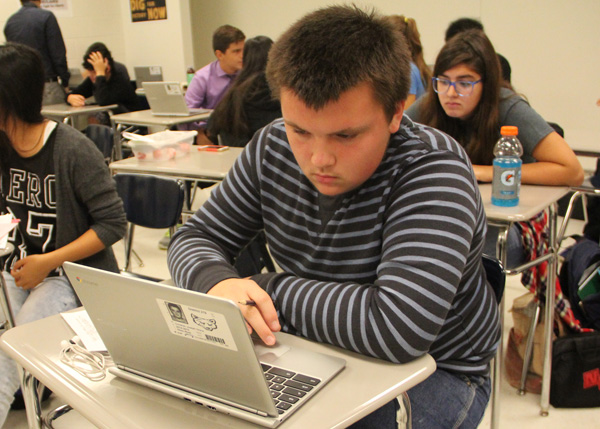 As part of a pilot program for a possible graduation requirement in digital literacy, freshmen are taking an online exam during study hall that is intended to provide them with information of computer operation and productivity tools and to teach basic information about their Chromebooks and Google applications.
The exam is composed of a 48-question pretest, a five-unit online course — which includes: Chromebooks and Google apps, digital citizenship, word processing, spreadsheets, and presentations — and a post assessment. A student must score an 85 percent or better on the pretest to avoid taking the online course, according to assistant principal of student services Antwan Babakhani.
According to chief technology adviser Guy Ballard, Atomic Learning wrote the test that is aligned to the ISTE standards. Credits will be earned as "Pass/Fail" if the program does become a graduation requirement, he said. A passing score on the post assessment is 60 percent.
Several  freshmen have complained about the content and difficulty of the test.
"The digital literacy program doesn't help at all and takes time away from study hall," freshman Jennifer Si said. "The modules are hard and take a long time to do. Students shouldn't be required to take this course because we don't get anything out of it."
Freshmen who are struggling are allowed to take the test numerous times in order to improve their scores. In addition, the district has hired digital literacy coaches, Michael Anderson and Dane Hilmer, to help students.
Freshman English teacher Kristen Jackson said several of her students were concerned about the test at the beginning of the year because they thought they couldn't leave study hall.
"They were anxious because they thought they couldn't meet with me about essays or homework," she said. "Now, they aren't worried because they know they can leave study hall."
Babakhani clarified that students can leave study halls with a pass if they need to visit teachers, counselors, or the Literacy Center.
"Because [the program] is an online, self-paced program, students can work on the Moodle course when time permits," he said.
Other students said they believe students who understand the content shouldn't have to take the exam.
"The digital literacy test isn't really helpful because most of the things we learn are how to search a phrase correctly in Google or how to work your Chrome Book," freshman Callieh Mohr said. "Most kids already know that. I think the program should be optional because that way students who need help and don't understand the Google Apps can take the test and online course to expand their knowledge."
The scope of this program, however, stretches further than to simply teaching students how to work Google Apps, according to Babakhani.
"The main goal of the program is to provide skills and knowledge students need to collaborate effectively, create innovatively, and live productively in an increasingly global and digital world," he said.
Note: The Digital Literacy graduation requirement is one of five recommendations that will be discussed at tomorrow night's Town Hall Meeting held in the South Lobby of Niles West at 6:30.