Fine Arts Friday: Stephanie Nahhas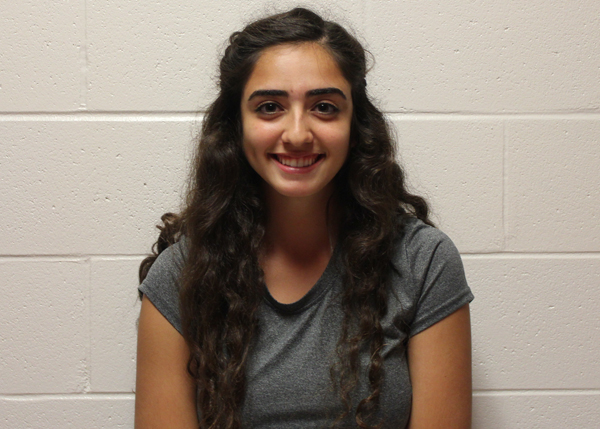 It's Stephanie Nahhas' senior year, yet she's still as actively involved as possible around Niles West.
Throughout her years at West she's taken part in National Art Society, National Honor Society, Poetry Slam, Relay for Life, cross country, Sports Medicine Club, she's also a Lit Center Tutor, and was the junior class poet last year.
Once this year comes to an end, Stephanie hopes to pursue a major in neuroscience, as well as a minor in both creative writing and psychology, at one of her top three schools: Notre Dame, University of Michigan, and University of Wisconsin Madison.
"My sister told me about Lake Forest's neuroscience program, and it interested me, so I looked at other schools' neuroscience programs. Huntington's disease runs in my family, so that's also influenced my interest in pursuing neuroscience," she said.
Nahhas' accomplishments in her extracurriculars have been numerous to say the least. In 2013 she won the $500 first place prize in the Luminart's Cultural Foundation, in 2014 she's won the $1000 first place prize from the same foundation. In the Scholastic Art and Writing Awards she won three gold keys and one silver key. She was also a national semi-finalist in the National Student Poets Program in which only five poets in the nation win, and she was one of the top thirty. There's no doubt that passion has been the driving force behind all her artistic achievements.
"Being recognized and awarded for something that I love to do is extremely humbling because it's a hobby that I use purely for self-reflection and artistic purposes. Being recognized in that context allows me to see that the stories I write can go beyond self purposes and into the span of another's entertainment," Nahhas said.
Fellow classmate and friend Valentina Zadro agreed that Nahhas' accomplishments were well due.
"She always likes to do things outside of the box. She's never one to do what everybody else is doing, she likes to venture out," Zadro said.
Aside from her work in AP art here at West, Nahhas is an active member of the poetry slam team, which is coincidentally led by English teacher, Paul Bellwoar, whom she sees as her mentor.
"He knows me really well in general, especially through poetry slam. We tight," Nahhas said.
Nahhas has great things in store for her whether it's in her artistic outlets or not, and her friends agree.
"Steph is the kind of friend that most can only wish to have. Simply her presence can brighten your day. Not only does she have a bubbly and gregarious personality, but she shows an incredible amount of talent and persistence in everything she does," said senior Cassie Bergman.
[nggallery id=350 template=galleryview]