New Cell Phone Policy Under Consideration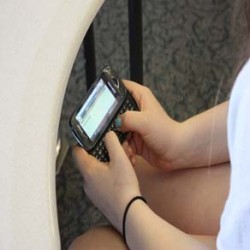 Do you want to be able to use your phone during lunch and passing periods? If the new cell phone policy gets approved, you'll be able to.
As of this year, the use of cell phones at any time between 8:10 am and 3:23 pm is prohibited. The proposal for a change in the cell phone policy, if passed, will call for the use of cell phones and iPod touches in hallways during passing periods and in the cafeteria and student activities center during lunch periods.
Regardless of the current school rules, students have been caught using phones in bathrooms, locker rooms, and classrooms. A major problem lies here when someone uses any device with a camera in a place where one would expect there to be privacy for protection. It is illegal to use devices of the sort in areas like these, according to English teacher and chair of staff council Michael Conroy.
"[The cell phone policy change] is embracing inevitability," Conroy said.
The new policy must be approved by the EPAC, the Educational Policy Advisory Committee, before Niles West can put the policy into effect. This could happen anytime between now and the beginning the 2011-2012 school year.
Conroy said he is in favor of this change for the reasons that students will use phones during the day, especially if they are completely banned from doing so.
"Kids use phones throughout the day. That's this generation's primary form of communication. If they can't do it within the context of the rules, they'll do it outside the context of the rules," said Conroy.
Junior Adrian Carrera agrees.
"Allowing students [to use their phones during free periods] will give them more freedom. They can get their texting out of the way during passing periods instead of in class," he said.
Sophomore Shana Nissan looks at this potential change from another perspective.
"If you permit this change, people might abuse the privilege and use their phones in classrooms," she said.
If Niles West decides to adopt the new policy, serious consequences will be put in action.
The first offense will result in the confiscation of the phone, and the parent(s) must retrieve the phone from the dean. The punishment for the second offense is the confiscation of the phone and a three-hour Saturday detention. The third offense of the policy will be that the phone is confiscated and an in-school detention.
"Students will have to learn to abide by the new rules. The penalties are pretty severe," said Conroy.
Even if Niles West decides to adopt this policy, Niles North and Niles Central don't have to, Conroy said.