Swimmers Rally Behind Coach Amid Suspension
Niles West swim team members showed up in force to the district 219 Board of Education meeting on Tuesday, Nov. 15 to support suspended boys' varsity swim and diving coach and physical welfare teacher Dan VanderJeugdt. Both parents and students alike advocated for a reconsideration of the board's disciplinary actions.
According to several sources close to the swim team, VanderJeugdt's suspension came in early November for allegedly housing an athlete in his home after the student's parents moved out of the country. VanderJeugdt was barred from coaching the boys' varsity swim team for their upcoming season.
Although the board of education is "not able to discuss individual personnel matters," board president Mark Sproat did comment on the matter at the end of the meeting, explaining the reasons behind the board's decision to suspend VanderJeugdt.
"We recognize that this has been a difficult meeting for those impacted by the coaching changes in the Niles West Swimming Program. While we are not at liberty to discuss individual personnel matters, we want to reiterate that the coach in question remains a valued member of our faculty and we are confident of his abilities to provide instruction and supervise students during the school day," Sproat said. "That being said, no teacher or coach is autonomous, and all are bound by Board policy, IHSA rules, and state and federal laws governing public education. As the Board of Education, it is our duty to make sure all of our employees abide by these rules, both to maintain a culture of accountability and to protect the integrity of all of the programs offered to all students. We understand and empathize with individual students who are affected by this change, however, we need to be mindful of our duties as trustees of our schools and our obligation to all students of the district."
Before last night's meeting, Niles West swimmers, both current and former, took to Facebook to circulate a petition calling for the board to rescind VanderJeugdt's suspension. The petition, which was presented at Tuesday's board meeting, received more than 215 signatures.
During the audience-to-visitors portion of the board meeting, athletes and parents had the opportunity to voice their opinions on VanderJeugdt's suspension. They resoundingly praised both VanderJeugdt's character and his actions while simultaneously expressing their deep gratitude and admiration.
Parent and feeder-district 74 school board member Nathan Cachila spoke about the impact VanderJeugdt has had on all those he has coached.
"He was a role model to these kids, some now adults. On and off the pool deck, his genuine kindness, support and personal commitment to his students left a significant mark," Cachila said. "He taught them teamwork, accountability, and hard work that pays off both in the pool and in the classroom. He not only developed them athletically, but made sure they strived academically."
Cachila also remarked on the unfair intensity of VanderJeugdt's punishment, believing that his alleged infraction was an example of his exemplary kindness and good heart.
"Unfortunately, kindness, good values, and personal commitment can get a person in trouble. There's a saying that no good deed goes unpunished, and that holds true today. I believe it is your duty to be fair and just, to ensure that the penalty fits the infraction, and to give every situation your careful thought and consideration," Cachila said.
Cachila ended his speech with an appeal to the school board members to reconsider their decisions to keep VanderJeugdt from coaching the upcoming boys' swim season.
"With that, I kindly request that you please reconsider your decision on this matter," he said. "Please consider that you are not just denying Vandy a season of coaching, but more importantly, you are denying a group of athletes the benefit of his guidance and support. Please consider your duty to be a model of justice, fairness, and transparency for the district."
Students also came out in large numbers to show their support for VanderJeugdt, who they deem to be a positive influence on the Niles West swim program and all its participants.
Senior swimmer and captain Nick Greiner spoke on behalf of current and former teammates, who all wished to express their "unwavering support" for VanderJeugdt.
"This is especially emotional for my senior classmates and me, since we have left our sweat, tears, and determination in that pool with a hope to finish our swimming careers on top," Greiner explained. "However, none of us are prepared for this scenario. To learn that our beloved coach is not allowed to be a part of our last season is truly crushing, not just for us, but also for the entire team. How are we supposed to carry on, knowing that our biggest supporter, mentor, and friends won't be there to see us through?"
In a common theme for the evening, Greiner also took the opportunity to commend VanderJeugt for his character, emphasizing how much of a role model the team viewed him as.
"I don't even known where to begin to express how much we look up to this man. Coach VanderJeugdt has taught us so many valuable lessons, not only in the pool as athletes, but also how to be diligent community members outside of school," Greiner said. "He has shown us how to be good people and not to be afraid to step in and help those who are in need. Because of him, we are stronger, more confident, responsible, less self-centered, and, mostly, more sensitive to those who are less fortunate than us. We are ready to enter adulthood, proudly giving the credit to the man who has shown us the way. I know everyone here is sharing the same sentiment."
Finally, Greiner ended his statement with a request the board revisit their suspension decision.
"As I conclude my thoughts here, I am certain of two things. First of all, not having a coach there for us on deck will not only have a huge negative effect on the season, but will also linger as a negative feeling with us for the rest of our lives. Secondly, whatever the outcome of the situation will be, Coach VanderJeugdt has taught me yet another valuable lesson," he said. "I now know, whether the good deed goes punished or unpunished, it doesn't matter; we should never be deterred from helping someone just because of the fear of negative consequences. On behalf of my fellow classmates and myself, I respectfully ask the board of education to reconsider coach VanderJeugdt's suspension so we can get in the pool, work hard, and continue to make Niles West proud."
Even female swimmers, who have VanderJeugdt as a gym teacher but not an official swim coach, demonstrated their support for their teacher by attending the board meeting.
"I'm also here to show my support for Vandy. I think that the way he's being punished is way too severe. He did what he was supposed to do as a human being," varsity swim team member and junior Jade Oribello said before the meeting began.
"He did this out of the kindness of his heart," fellow varsity swimmer and junior Katelin Avenir agreed.
Correction: An earlier version of this article included a student quote that contained information that was not factual.
About the Writer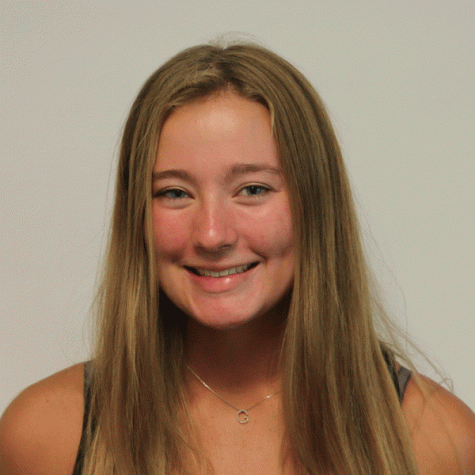 Grace Geraghty, Editor in Chief
Grace is a senior in her third year on Niles West News, where she is the Editorial Editor in Chief. Outside of NWN, she can be found figure skating, at...