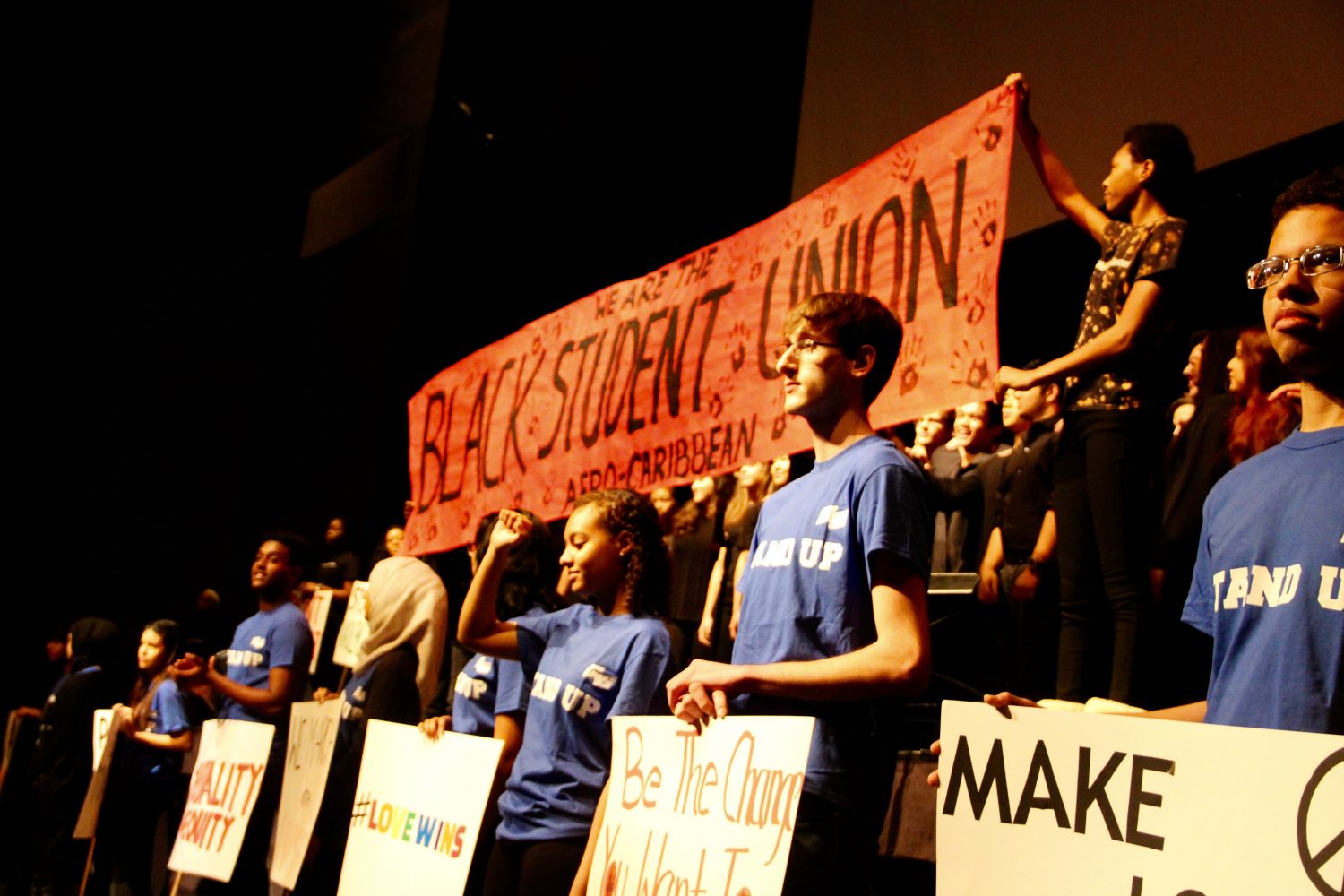 Every year, Niles West holds an MLK assembly that consists of many different speakers, performers, and a performance by West's choir. These performances mostly embrace the African American culture and the progress people have made working towards equality. This year, there was a focus on an issue which is especially significant — youth activism.
The Black Student Union has been responsible for for putting this assembly together each year. Members of BSU had been planning this assembly ever since the first week of school.
"All of our BSU members had been coming up with themes, we had been making posters, and our sponsors, Mr. Foster and Ms. Green, had been making sure that every thing is in order and goes smoothly for the assembly," sophomore and president of BSU Kayla Lawrence said.
Orchesis performed two dances and the Master Singers and Gospel Choir sang two songs, the most memorable being "Glory" by John Legend and Common which featured choir director Matthew Hunter. Two members of BSU were the emcees for the event, and senior Claire Embil performed a spoken word piece.
This year's assembly opened up Embil's performance. She had written a spoken word piece on youth activism which set the tone for the upcoming performances.
"It was short, sweet and to the point, which is what I think youth activism is about. It doesn't need to be complicated and it doesn't need to be over the top," Embil said. "This poem's significance is really about getting out there, speaking out and being heard. Even though we are at a young age, it shouldn't matter and we should still fight for justice."
Especially considering the political climate of today, Embil thinks it is absolutely necessary to stress the fact that everyone, especially the youth, can make a difference.
"I think you'll hear a lot of this in my poem, but what I want students to take away is that there is a job to be done, and we can't sit back and not do anything anymore — there's no time for that. We can't be afraid anymore; we need to stand together and understand that this isn't an option anymore because people are dying," Embil said.
One of Orchesis's dances was about civil disobedience and standing up for what you believe in. The students incorparted the theme of the assembly into their show with not only their dance, but their costumes as well.
"All the girls were dressed as hippies, protesting for peace, and Miguel, a member in Orchesis, was dressed up as a soldier in the army," junior Jasmine Pumanes said. 
The second dance was performed to "Fix You" by Coldplay and was about going through poverty and tough times, but having friends to pick you back up.
"Both these dances are very relevant to what was everyday life was for African Americans and what they had to go through in the past," Pumanes said.
Junior and vice president of BSU Kayla Brissett-Scott explains the importance of the MLK assembly and his dream that changed America forever. He broke boundaries for the African-American community. He paved a road which created a better racial standing within society, and that set a pathway for more change and equality in the future.
"MLK impacts society today because he set a way for us people of color and helped empower desegregation for us to be as diverse as we are at West today," Brissett-Scott.
Recently, and especially regarding the election results, others have a totally different opinion on how MLK has affected our society today.
"I'm kind of disappointed about how society has taken Martin's message, Martin preached radical love and I think that we don't have that anymore; I think we lack that in society and as a whole. So I'm kind of disappointed to see that the idea of 'love your neighbor' has sort of dissipated from constant human interaction, which is upsetting to me," Embil said.