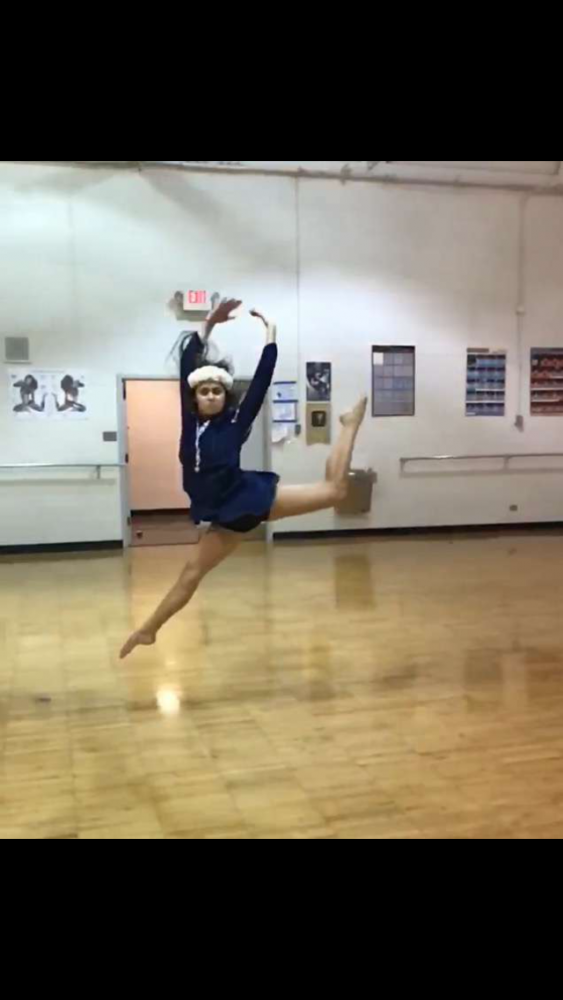 The buzzer goes off at half time while the the Niles West varisty poms team trades positions with the basketball team as they take the court. Among the perfectly in sync dancers is sophomore Shannon Berg.
It's impossible to notice that Berg has only been dancing since last year. With her natural talent, she made both the varsity poms team and Orchesis, both being her first time trying out for a dance team.
"I first started dancing when I got a dancing part in the musical 'Hairspray,' and I knew I wanted to pursue it more after the show, so I joined everything Niles West had to offer that involved dance," Berg said.
Berg's favorite sports, dancing and basketball, overlap in the Winter season, leaving her with a tough decision to make. Dancing has become Berg's outlet for releasing her stress, and it's one of the reasons she decided to pursue it over basketball.
"Dancing has affected me by allowing an outlet for my feelings. Whenever I am feeling mad or sad, I dance," Berg said. "Dance has given me discipline. I practice every single day besides Sundays. The dance studio has literally become my second home.
Although Berg has no regrets on the path she chose, she does miss playing basketball. However the feeling she gets when dancing reassures her every time that she made the right decision.
"When I am dancing, it's the happiest I will ever be. Basketball had been a big part of my life since 2nd grade and I have amazing memories with different teams and it was something my family and I bonded over. It was something I thought I would be doing for a long time, even [in] college," Berg said.
With her past consisting of basketball, Berg found herself looking forward more to being in the dance studio rehearsing rather than being in the gym practicing.
"But whenever I started having rehearsals for theater while playing basketball, I found myself looking forward to theater so much more," Berg said. "I wanted to be in the studio not the gym. I know I made the right decision, even though I miss basketball so much. I did love it, but I guess I just made the decision to focus on my true passion."
Varsity poms captain, Audrey Choi found it very surprising that it was Berg's first time on a dance team based on the advanced moves she exhibited at tryouts and throughout their season.
"Shannon's amazing bubbly energy makes everybody ten times more motivated to be better. Her positive attitude and talented dance skills bring a unique strong vibe to this team, which makes us a larger and more unified group, " Choi said.
Teammate and friend, junior Elizabeth Chin admits that after hearing a newcomer would be joining the varsity poms squad, she was nervous that it would disrupt the built up chemistry of the team.
"As for the team, most of the pommers had been together before and we already had a set dynamic. We were hesitant to have a new member on the team, afraid she might disrupt our dynamic. However, Shannon turned out to be an outstanding new member of the Poms program," Chin said. "She brings her passion and effort to practice every day, and she has great leadership qualities that she brings to the varsity team, even as a sophomore."
Chin describes Berg as one of the most hard-working and determined people she knows and can see how those traits rub off on the rest of the team.
"As a person, Shannon is so passionate about everything she invests herself in. No matter if it's school, theater, orchesis, or poms," Chin said. "Honestly, it's amazing to see how she gives 100% effort in everything she does. Between poms and theater, Shannon is so enthusiastic about both that you can't even tell she splits her time between them because of the amount of effort and work she puts in."