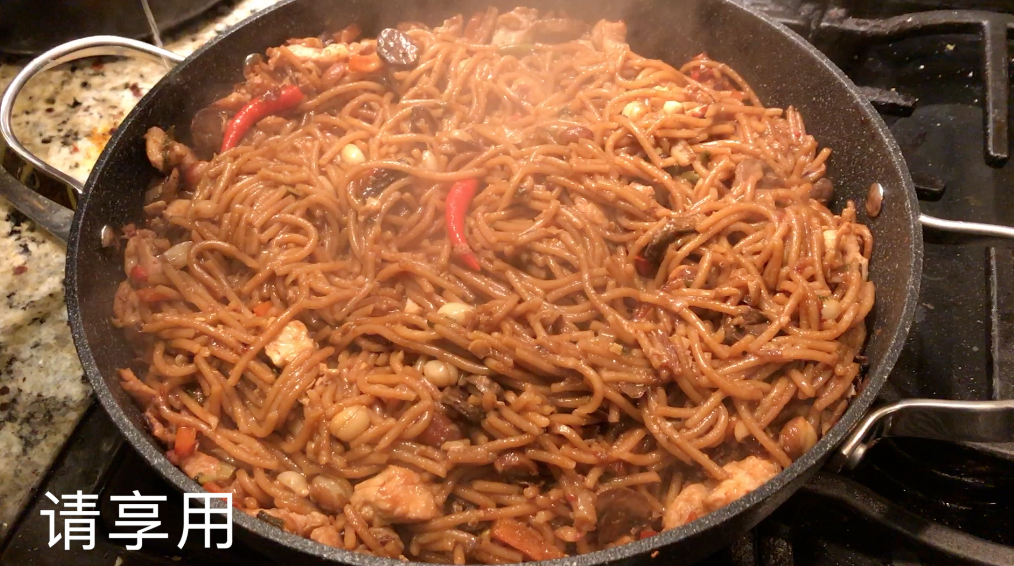 [youtube]https://youtu.be/jISDDXUvD7I[/youtube]
Editor's Note: This is the second in a series of seven episodes about International Foods to go along with NWN's International Week coverage of several clubs. 
Kung Pao Chicken, a traditional Chinese dish, is often found in many restaurants. This spicy stir-fry dish, made with chicken, peanuts, vegetables, and chili peppers, is a great way to expose yourself to authentic Chinese food without creating a hole in your pocket. So step away from the phone and instead of ordering takeout from your local Chinese restaurant, try making it yourself!
Kung Pao Chicken Spaghetti
. 1 pound cubed/diced chicken breast
. 1 pound spaghetti noodles
. 10 thai red chili peppers
. 4 tablespoons cornstarch
. 1 large carrot (cut into jullienes)
. 3 cloves garlic
. 5 green onions
. 2 cups shiitake mushrooms
. 1 cup roasted peanuts
. 2 eggs (only the whites)
. 2 tablespoons olive oil
. 2 cups chicken broth
. 1 cup soy sauce
. 4 tablespoons apple cider vinegar
. 3 tablespoons Sambal
. 1/4 cup granulated sugar
. Dash of sesame oil
1. In a bowl, whisk together half of the cornstarch (2 tablespoons) with the egg whites from two eggs until there are no lumps.
2. Using a spatula, fold egg white mixture into the cubed chicken breasts.
3. Heat olive oil in a large saute pan and cook chicken. While that is cooking, chop three of the five green onions, cut the carrot into juliennes, and mince all three garlic cloves and only three of the peppers.
4. Repeatedly stir the chicken. Once the chicken is half way cooked, add garlic cloves and green onions and stir.
5. When chicken is cooked, add carrots, chopped peppers, half of the mushrooms (1 cup), and stir.
6. Fill a stockpot with water and salt and bring to a boil. Add pasta and cook for 10-15 minutes and drain in a colander.
For the Sauce
7. In  a saucepan over medium heat, add broth and cornstarch and whisk. Add the sambal, sugar, and apple cider vinegar and whisk.
8. While whisking, gradually add soy sauce
9. Add a dash of sesame oil, or about 2 teaspoons, and bring the sauce to a boil. Whisk until it has thickened
10. Add sauce to saute pan with chicken and vegetables. Also add cooked pasta into the same pan and, using tongs, combine the chicken, sauce, and pasta.
11. On top of everything add the remaining cup of mushrooms, 7 thai peppers (chopped), peanuts, and chop the other 2 green onions and add those as well.
12. Combine/toss everything together, serve and enjoy.