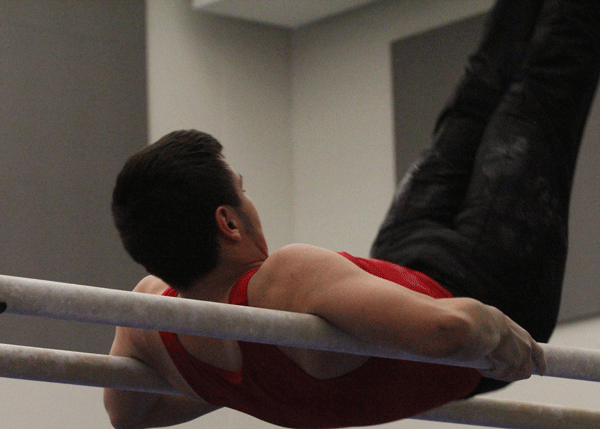 Keeping the traveling trophy home is an important achievement for really any sport here, but the boys gymnastics team has now kept it for four years and counting, so holding onto it this year is something the boys will be fighting for. Starting at 6:00 p.m. Wednesday, April 19th, the boys gymnastics team will be competing against our rivals, Niles North, as well as Glenbrook South. This is a meet that both teams look forward to every year and where they will push their hardest.
"I think we're definitely ready for North; we've been getting ready for this meet for a while, along with conference and sectionals, so I think we're good to go," head coach Adrian Batista said.
The boys have had plenty of invites where they've faced off against North, and each time West has placed higher than them.
"We've been beating them at every meet or invite that we've been to, so we're pretty confident that we'll beat them," senior and captain Siraj Patel said.
Along with versing North, this meet also includes going against Glenbrook South. So far, the boys haven't versed GBS, so they aren't entirely sure what to expect.
"We really just need to focus on beating GBS; North shouldn't be problem," senior and captain Henry Ly said. 
Besides going up against North, this meet is also their last home meet ever, meaning it's Senior Night. Going up against the second-best team in the conference is going to be difficult, but with this last meet, the boys are experiencing  a bitter-sweet feeling.
"It's a lot of pressure, but we really need to do what we've been doing and stick everything, or at least try," both Patel and Ly said.
The boys on the team aren't the only ones looking forward to this meet. Their coaches are just as enthusiastic.
"I'm excited for this meet. We've got our four seniors coming out and GBS will also be at this meet, and they're a very good team. So I'm looking forward to seeing how our practices turn out into the meet," Batista said.
This will be one of the most exciting meets of the season, so make sure to wish the boys gymnastics team luck, or better yet come out and cheer them on in the Gymnastics Gym today at 6:00 p.m.