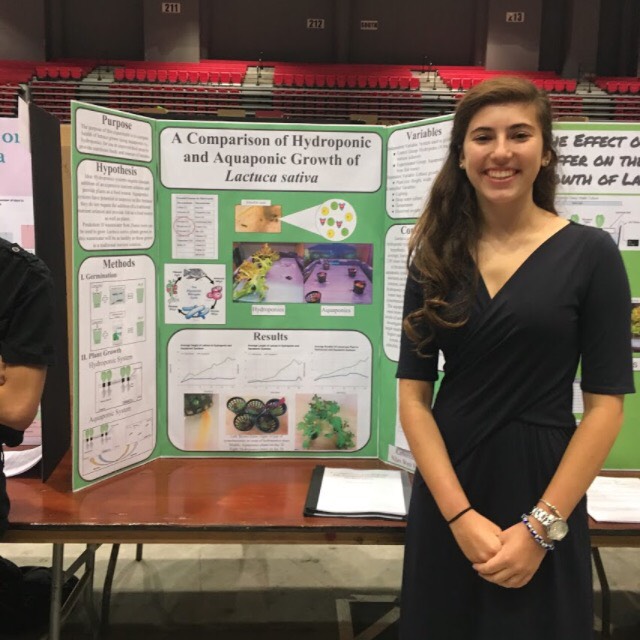 Here at Niles West, students are offered the chance to enroll in the STEM Inquiry and Research class. This class is very fast paced and challenging; junior Katie Benstead has been enrolled since her freshman year. This class has given Benstead the opportunity to conduct different research projects. This year, her project revolves specifically around aquaponics.
"My project involves aquaponics, which is a system of growing plants and fish together. It's a great system because it cuts out a lot of the inefficiencies and costs of modern day agriculture. Most farms that grow their crops in the ground lose large quantities of water through runoff and can quickly drain the soil of any nutrients it contains," Benstead said. "In aquaponics, it's a closed system, so the water is contained and reused. Aquaponics combines the best of both worlds: the fish provide nutrients, and the plants filter the water, resulting in a system that can provide large amounts of food over a relatively short period of time."
Benstead has been hard at work on her aquaponics project for a little more than a year, although it's grown and changed since she first started working on it.
"In SIRs, you get to spend a year (or more) working on a research project that's completely your own. We have an awesome stem lab and funding, so there's a wide range of projects you can work on, from computer science to microbiology. It's also very independent. The teachers are there to mostly guide us with what we'll be doing and make sure everything is safe and moving in the right direction," Benstead said.
Since Benstead has spent so much time and effort on her project, it means a lot to her.
"This project is everything to me. Time spent in the stem lab is my favorite part of the day. It's just a lot of fun to work through it all because there always seem to be new problems coming up and it's really empowering to be in charge of your own project and know that it's up to you to make sure it all works out. It's a big project that I think I can go really far with in the future if I play it right, which inspires me as well," Benstead said.
What started as just an idea has turned into something that has impacted Benstead greatly. Because of this project, she now wants to do research for the rest of her life.
"My project has impacted me in ways I never thought it would. At the beginning, I had very little interest in it and just wanted to get it done, but once I got to the actual research portion, I realized that I actually really enjoyed it. Also, when my project did well at regionals and state, it made me realize that I could actually go places with it. It's opened my eyes up to a whole new range of careers and opportunities," she said.
Benstead is also involved in a variety of other activities inside and outside of Niles West
"I'm on the diving team and in science olympiad, which I also help coach at Park View School. I'm in WYSE, ski club, and garden club. I also tutor in the Lit Center as well as outside of school to make some money," Benstead said.
Being able to balance her social and school life is something Benstead has locked down. Long time best friend and junior Alexia Popescu had nothing but great things to say.
"I met Katie in third grade. Katie is always there for me, whether it means giving me a hug when I'm in tears or throwing some shade and sarcasm to make me laugh when I'm feeling down. My favorite things about Katie is that she is very classy and open-minded. She respects others and she respects herself. And saying that she's super smart… well, that's a given. She's the kind of girl that I know will go far in life," Popescu said.
Benstead has always preformed above and beyond in her studies. Her work ethic does not go unnoticed by her teachers. Science teacher Parin Patel has been Benstead's SIRS teacher since freshman year.
"Katie has been a SIRS student for the last few years. [She] is excellent at taking personal initiative in finding resources, guidance and help when she needs to find more info. She is a student who is proactively thinking about potential problems and risks," Patel said. "There have been so many instances where she has had setbacks or challenges implementing her plan for the project. During each and every setback, she was able to come up with a clever solution. She's an incredibly talented student for that reason."
Benstead will continue to work hard on her aquaponics project in and outside of school. With her excellent work ethic and obviously her big brain, Benstead will go far in life.