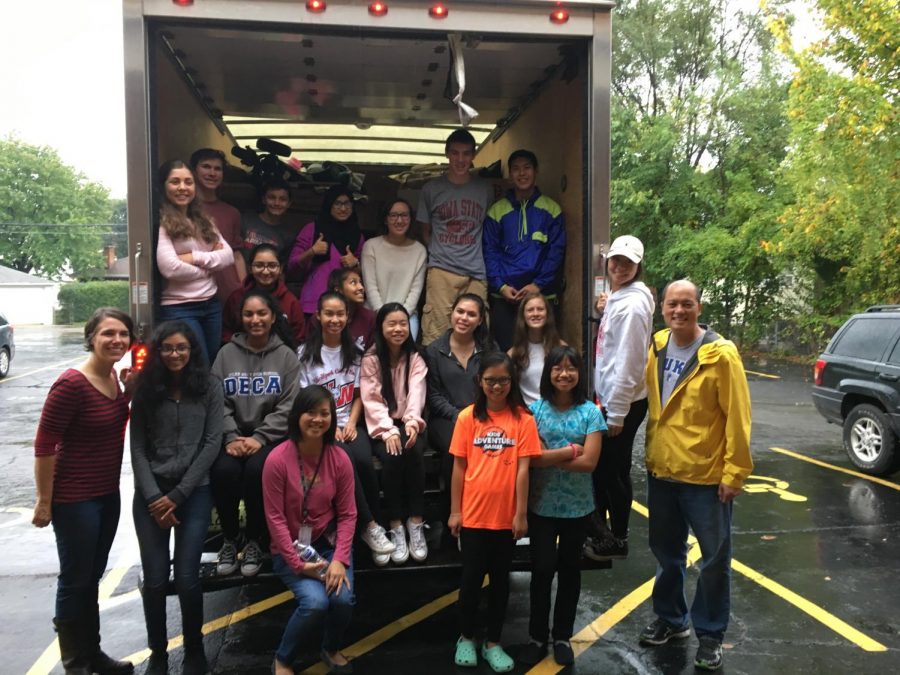 Earlier this month, 83 seniors were inducted into the National Honor Society (NHS). The Niles West News sat down with four NHS officials, seniors Sophia Cinquemani, Tracy Pham, Katelin Avenir, and Divya Gandhi to talk about what exactly NHS does and what their goals are for the upcoming year.
1. What is your position and what role do you play in NHS?
Cinquemani: I am president of NHS. I basically coordinate our group, communicate with members, and help organize opportunities for us to help in our community.
Pham: I'm the vice president of NHS. Through this position, it's my responsibility to inform members about volunteer opportunities and how they can give back to the community. I organize the weekly meetings so that we make efficient use of our time. I'm also there to aid the president or take over her position when she is not present by leading each meeting and making announcements.
Avenir: I'm secretary of NHS, and as secretary, it's my job to make sure that everyone is informed and involved in any events that go on, such as attending the induction ceremony, or participating in any volunteer opportunities. I also assist the president, vice president, and treasurer, if they need help with anything.
Gandhi: I am the treasurer and so far I have collected money from students and their student collect forms from them. I sort and organize all the money we receive.
2. What is NHS and what is its purpose?
Cinquemani: NHS is a group of academically and service-interested students who work together to help our community through various volunteer opportunities.
Pham: NHS is a selective, academic-based organization. The foundations of NHS are built on the four pillars: leadership, scholarship, character, and service. Every member within this organization fulfills each pillar that NHS strongly promotes. Our main priority is to set a good influence among our peers at Niles West and be active members within our community.
Avenir: NHS is an academic club in which students are selected based on their grades, GPA, and involvement in the school or community. NHS members work together to excel in the four pillars of NHS: leadership, scholarship, character, and community service. In order to fulfill these tasks, the members are required to maintain a certain GPA, stay involved in extracurricular activities, exhibit leadership in and out of the classroom, and give back to the school and community through service.
Gandhi: NHS stands for National Honors Society and it's made up of a selective group of students who have carried a GPA of higher than 3.8 for the past four school years and for students that have committed to two or more extracurricular activities each year. Students are chosen based off their character, leadership, scholarship, and service. We meet every Thursday during homeroom in the college resource room and we discuss coming events or fundraisers that we can help with by volunteering.
3. What plans and goals do you have for this school year?
Cinquemani: I hope that we can leave our school and community a little better than we found it. I want to give back to the community that created us, and I think we have an excellent opportunity to do that this year.
Pham: My plans for NHS throughout the school year include participating in more events both inside and outside of school. With our involvement, we hope to set a good example towards underclassmen so that they follow within our footsteps. Our goal is to participate and play an active role in school.
Avenir: My plans and goals throughout the school year is to make sure that each student makes a difference in and out of the school, through the four pillars of NHS. We hope that each student upholds their duty and responsibility as a member of NHS. We hope that each student makes the most out of their experience, by exhibit the four aspects of NHS, and each individual is able to take something out of their involvement and use it in the future. Overall, we aspire to make sure we set a good example for the younger students at Niles West, in hope that they will be compelled to follow in our footsteps.
Gandhi: Our goal is to help out the community around us and raise a lot of money for any fundraisers that we can donate to.
4. What's the most rewarding thing about being in NHS?
Cinquemani: For me, I love learning individual actions that can make a difference. Seeing so many people interested in doing service for the community is wonderful, and I love that we are capable of making changes and helping out the people around us.
Pham: The most rewarding thing about being part of NHS would be surrounding myself with students that obtain the same vigor and motivation as me to lead a successful high school career. It is ultimately a fulfilling experience to make a difference within our school alongside a group of exceptional students.
Avenir: The most rewarding thing about NHS is that I have the opportunity to wok with many of my bright peers who are just as committed and dedicated as I am, in fulfilling the duties as a member of NHS. It's an honor to be able to work with students who are motivated to excel in and out of the classroom. These students earned their spot in being a member of NHS because they are people who've been seen that they're meant to make a difference.
Gandhi: Being chosen in a very selective group after working so hard and being committed after my four years is the most rewarding thing. I feel like it was all worth it and it all paid off. It also feels like other people care about the changes and other things I've done within the community and in Niles West. I'm glad I'm able to be part of a group of students that  have similar interests with me and that I'm able to make more new friends.