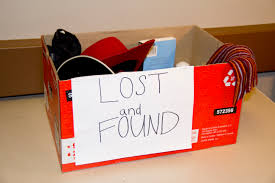 Students always tend to lose their belongings in school every day. Once something is lost, they tend to just believe it was stolen. Little do they know, a majority of these items end up in the Lost and Found. The Director of Security, Michael Pechter, sent out an email to the entire student body on Nov. 27 informing students about what will be happening to all items in the Lost and Found at the end of the semester.
"We here in the security office in room 1117, adjacent to the attendance office, also manage the lost and found," Pechter said. "Over the course of the semester, we collect hundreds of items that don't have names on them and go unclaimed. The ones that have names, I go to great efforts to return them. On the last day of finals at the end of the semester which is Dec. 22, all the untraceable and unclaimed items will be donated to charity. Students have until 11 a.m. on Dec. 22 to retrieve missing items. After 11 a.m., the lost and found will shut down and all items will be given to charity."
Even though students belongings that were able to be retrieved for an entire semester are being given away, sophomore Adem Memidzan believes it's such a great way to get rid of items that will most likely never be reclaimed.
"I think it's a good way that all the items that aren't being recovered are being given to charity. There are people who are going to appreciate the item or article of clothing more than the person who initially owned it," Memidzan said.
Following Memidzan's personal opinion on the situation of donating retrieved belongings, senior Edita Mackic thinks this is one of the best things the school can do because we're giving back to those who don't have as much as most of us students do.
"I believe it's such a good idea because if you don't care enough to watch your stuff, you eventually would lose it somewhere else," Mackic said. "It's nice that the security is giving back to those in need because we're giving back to the community. It's better than items being thrown away or lost somewhere else where they are incapable of being donated."
Donating to charity is always a good thing, but it's also nice to repossess something you've lost. Pechter wants students to try and get into the habit of putting their names and ID numbers on most of their belongings so the office can return most items.