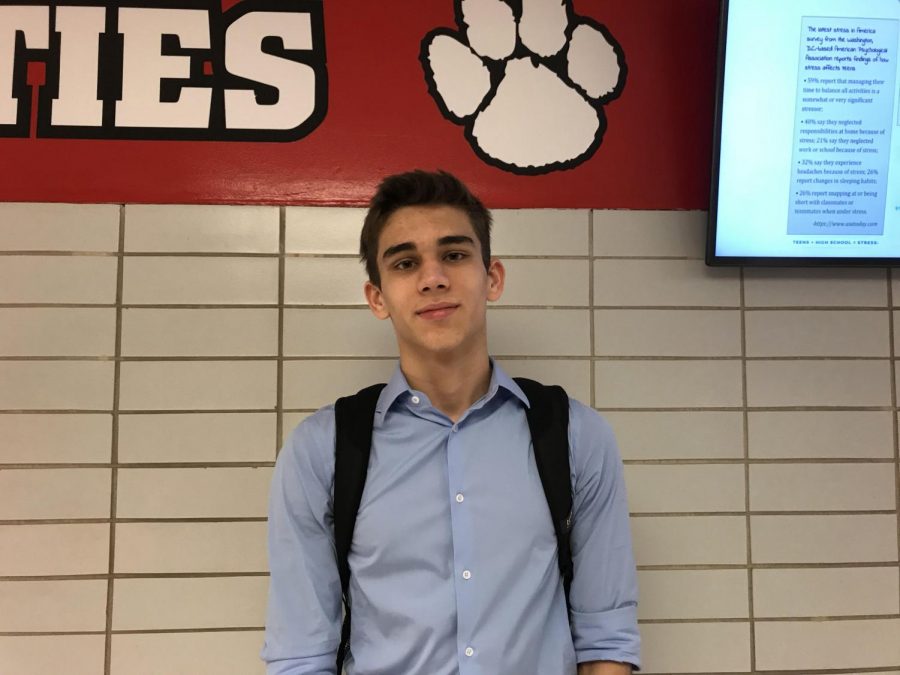 A vast majority of athletes need to be in a certain mindset to be prepared for a game. Sometimes it comes from common good luck charms or never before seen superstitions. Actions must also be put in perfect order to make a player feel safe and comfortable before a game.
Haris Mackic, a basketball player, makes his game days his number one priority. Starting the sport from his early youth has made him a very committed and hardworking athlete. As he becomes more serious with the sport over time, Mackic has found ways to make himself focused on the game in order to bring out his best performance for each and every one.
"On game day, right when the bell rings to end ninth-period, I walk to the varsity locker room in silence. I don't talk to anyone. I just go straight to the locker room and get dressed," Mackic said. "I always put on my right shoe first and then my left shoe. I put my uniform on with my jersey tucked in and my shooter shirt over the uniform. I like to fold the waistband of my shorts up once and then unfold it. After getting dressed, I go to the trainers and heat up my back for a bit and I get ready to warm up."
The actions performed on game days throughout the season by Mackic are noticed by many of his teammates. Sophomore teammate Adnan Seferovic has observed Mackic on game days and can see all the concentration that is put in before games.
"Every game day I see him walk into the locker room, super concentrated and only thinking about winning. He gets in uniform and heads over to the trainers, where he makes sure his body is also ready for the game. After that, it's no messing around with him. Going through the full 28 minutes of game time, it's clear to see how his pre-game preparations pay-off during the games," Seferovic said.
Some athletes like to goof around before games to loosen up, but Mackic always keeps his head straight with his eyes and mind only on the ball. Fellow teammate, sophomore Andrew Pabst can tell how Mackic's preparation is demonstrated in their games.
"He always comes into the locker room super focused with nothing else in mind besides the game," Pabst said. "When he's super focused, he plays the game comfortably which allows him to be successful throughout his performance."
Mackic's work ethic and humbleness are what will take him places in the near future. The young athlete has set high expectations for himself with hopes to achieve his goals using his high levels of patience.
"I want to play college ball and hopefully one day go pro. It's an incredibly hard goal but I feel that if I really put my mind to it and focus, I believe I can make it far. My superstitions aren't just things to wish me luck in a game, they help me stay calm and steady my mind before I walk onto the court."