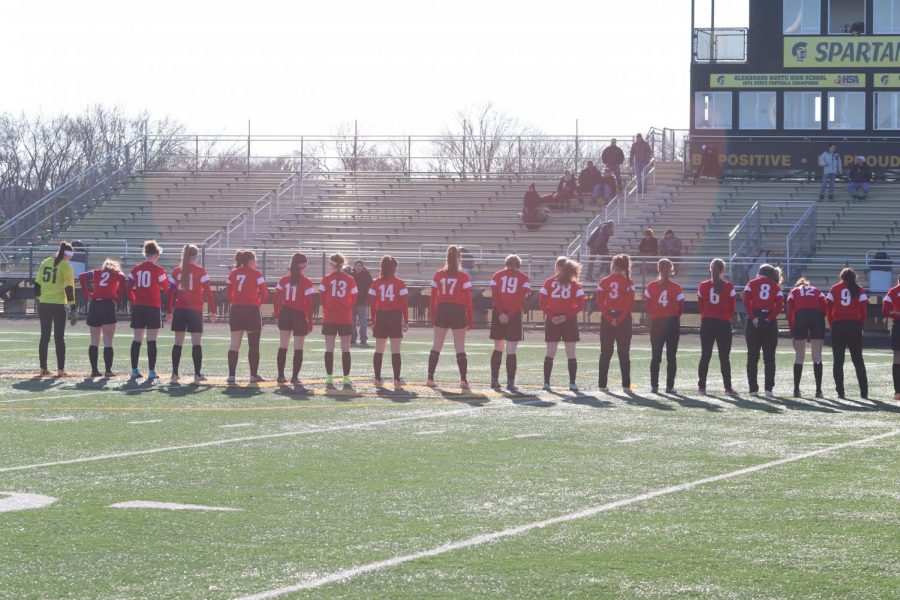 Vinnie Bellissimo
It may still be cold, but the first day of spring has already passed, and that means it's time for girls soccer season. The varsity girls soccer team started up practice on Mon., Feb. 26. After a long off-season, the girls and coaches are eager to get back on the field and start scoring goals.
The 2018 varsity lineup is diverse with talented girls that range from sophomores through seniors. The coaches and the girls all have high hopes and expectations for the team. Head coach Milutin Cejovic is very excited about this year's team.
"You know, we lost a lot of key players from last year, especially [alumna] Jackie Bajric. Right now we're looking for maybe not just one, but a few girls to fill that role as a goal scorer. I see a bit of that in [junior] Ashley Dyer, [senior] Nikoleta Baxevanakis, and [junior] Sammie Simkins. They all have experience, they know what to expect from the coaches and from other teams, and they all have diverse components. They bring key attributes in their own way," Cejovic said.
Captain and senior Edita Mackic noticed various team member's experience and talent.
"We have a good amount of players from last year who have a lot of experience, but also have a lot of new players with new skills and potential," Mackic said. "I'm just really excited."
The girls have played two games thus far, in which they won and lost a game. Cejovic knows that the first loss was nothing to be too worried about, and he is confident in all the girls' abilities to continue to win.
"It was a tough loss to GBN. It was super cold, windy, but it was only the first game. We just needed to get our bearings," Cejovic said. "We actually had our first win this season against Oak Park and River Forest, it was very exciting. But in general, the weather hasn't been helping us much at all."
The girls all have high expectations for the team and set tough goals to push themselves to success. Three-year varsity player, Dyer discussed her goals.
"When it comes to goals for myself, I really want to push myself harder. Not just in games, but in and out of practice as well," Dyer said. "For the team, I'm just hoping we can learn from our mistakes and never let what messed us up before becoming a habit."
The varsity soccer team has already had three-game cancellations due to bitter cold spring weather; nonetheless, they are continuing to train every day to push themselves beyond their limits and have one of the best seasons they've had in a while.
Make sure to come out and support your varsity girls soccer team this season. The next game is scheduled for Thur., Mar. 29 at Leyden High School at 12:00 P.M.