Leader of the Pack: Fall Sports Edition
`"Leader of the Pack" is a series of articles recognizing Niles West athletes for their athletic, academic, and personal achievements. Nominations are accepted from coaches of both boys and girls teams each season. These athletes not only excel in their sports, but they also display leadership, good sportsmanship, and academic integrity.
Your nominees for girls fall sports are: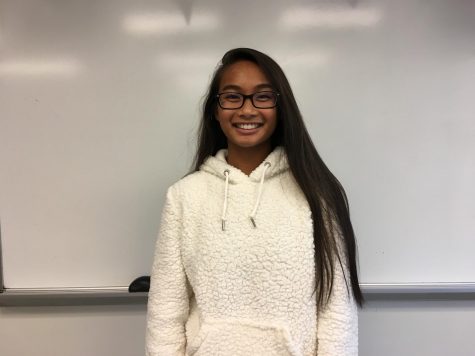 Shelly Sabaricos, tennis: Taking a deep breath, senior Shelly Sabaricos prepares herself for her next serve. Eyeing her opponent, Sabaricos begins her wind-up and fires. She fires a rocket across the court that her opponent can't return, making it 15-love in her favor. Sabaricos was one of the best tennis players on the team, decorated with many wins and awards proving her skill. She was also the recipient of the honorable James Swanson Good Sportsmanship Award. "Athletics have shaped me in ways that involved me improving in character. I developed more leadership through becoming more open with everyone and I became the "mom" of the team. I had many responsibilities, not only as a teammate but as a captain, which I think I was able to handle and succeed at," Sabaricos said.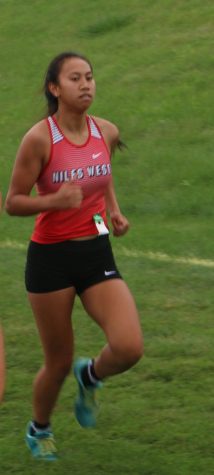 Jennifer Oribello, cross country: Closing in on the lead, senior Jennifer Oribello hits the dash around the last curve of the course. She's right on the heels of the runner in first, and as the finish line gets closer and closer, Oribello cuts off the runner and finishes in first. Oribello has been one of the most consistent and dedicated runners to the cross country program. She has always placed incredibly well and was one of the few girls on the team qualified for sectionals. "My mindset has changed because of my sports. I've had a more optimistic and more encouraging attitude towards a lot more things. I don't stop until I reach that goal, and that's the one thing I always focus on: reaching that goal no matter what," Oribello said.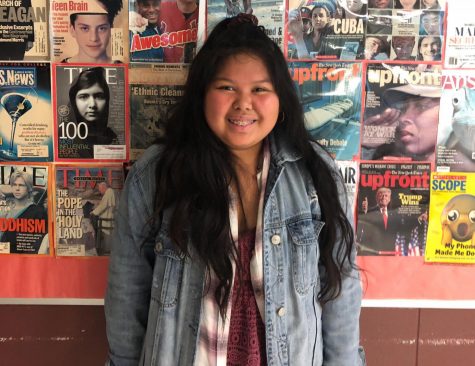 Mia Catalla, golf: Mia Catalla is a hard-working, respectable athlete who played a huge role in the girls Varsity golf season this year. Catalla was named captain at the beginning of the season for her leadership skills that she has no lack of. She is a very talented golfer but even more than that, a better teammate. Her main goals for the year was to be able to bring the team together and to make sure that they finish their season strong and with a lot of fun. "As a golf team we play as individuals and it is sometimes hard to work as a team, but we work through it by encouraging each other and supporting one another on and off the course," Catalla said.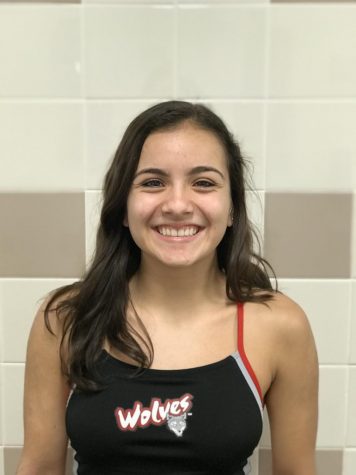 Juliet Delgado, swimming: The sharp beep goes off signaling the start of the race, as sophomore Juliet Delgado dives into the water. Twenty laps of full-on sprinting passes, as Delgado finishes the longest event: the 500-yard race. She glances up at the board to see that her time has dropped and her hard work during practice has paid off. Delgado is the team's distance swimmer and her specialized sets set her apart from the rest of the team. Many times swimming sets all by herself, Delgado's determination and positive attitude still does not falter. She continually improves at a rapid pace, just like how she swims her races. As only a sophomore, Delgado takes pride in providing a positive atmosphere for the team. "I feel like I've been really leading in a positive aspect, and I feel like I've done a good job at making the team feel optimistic and I take pride in that," Delgado said.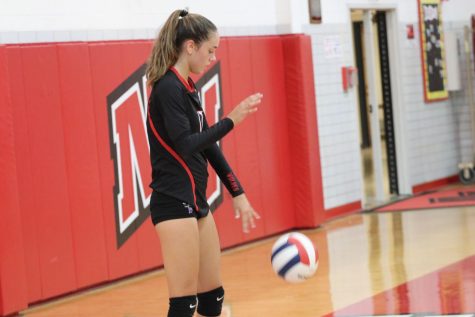 Ellie Scalero, volleyball: As the volleyball is bumped and then set in her direction, sophomore Ellie Scalero takes her approach toward the net to spike it. She jumps in the air, and with all her might and power, kills the ball back to the other side of the net. Scalero served her second year on varsity this year, only being a sophomore. Scalero had shoes to fill on the varsity roster as her older sister, alumna Natalie Scalero, had graduated, and coaches Stacey Roth and Marco Kljajic believe she had done an amazing job. Reflecting on her experience of being a freshman on varsity, Scalero said, "It was really fun to start on varsity as a freshman. It was good to know the upperclassmen, and we had really good team bonding. We all connected really early."
Your nominees for fall boys sports are: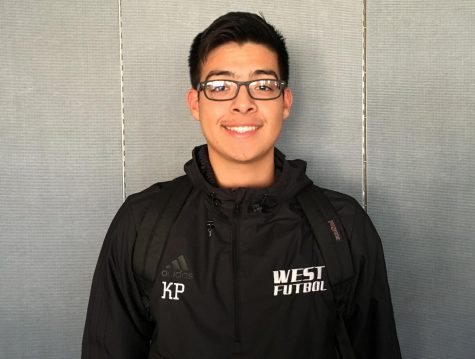 Kevin Perez, soccer: Receiving a pass from his teammate, senior Kevin Perez sprints downfield with the ball. He flies past every defender and looks for an opportunity to fire at the goal. Perez takes a shot and nails the upper 90, another goal for the Wolves. Perez is a fantastic soccer player, playing on the varsity level. "[Perez is] everything you want in a great kid. He was always called upon to help out, he plays well, and he never let us down. This program and the school are really going to miss Kevin,"  coach Milutin Cejovic said.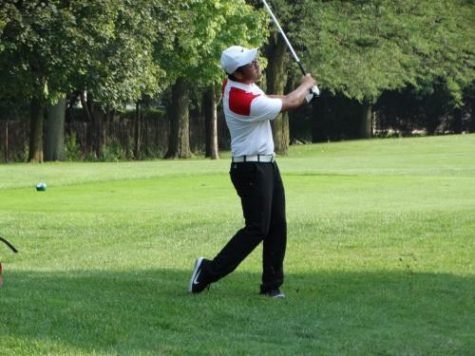 Scott Klaisubhan, golf: Senior Scott Klaisubhan eats, sleeps, and breathes golf all year round. Klaisubhan has lead the boys varsity golf team for the past two years and has been a really good role model for the younger golfers looking to improve their game. All things aside, studies come first for Klaisubhan and will always finish up homework and studies before hitting the course. Whether it be preparing for college or hitting the course for a round of 18, you will always catch Klaisubhan working his hardest at whatever he does. He won the award for MVP out of all the golfers at west this year and is really hoping to continue his golf career in college. "It was cool winning MVP for golf this year and I will still continue to work hard and golf as much as possible," Klaisubhan said.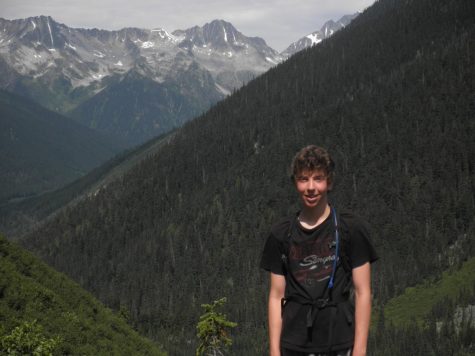 Gabriel Cohen, cross country: Patiently waiting for the starting gun to fire, senior Gabriel Cohen lines up at the starting line with dozens of other runners.  The event hasn't begun yet, but Cohen's heart is already racing. In an instant, the firing gun sounds off, and Cohen takes off ahead of the group. He has been absolutely astounding in both the classroom and extracurricular activities. After spending three years on the cross country team, Cohen now serves as a captain for the team and leads the fastest group of runners. Cohen is also a master when it comes to the textbooks. He boasts phenomenal work with the math team, WYSE, App Development Club, and much more. Cohen is the definition of a student-athlete. "I am most proud of being a captain on the cross country team. After three years of hard work and dedication, it is humbling to be filling the shoes of all the amazing captains have come before," Cohen said.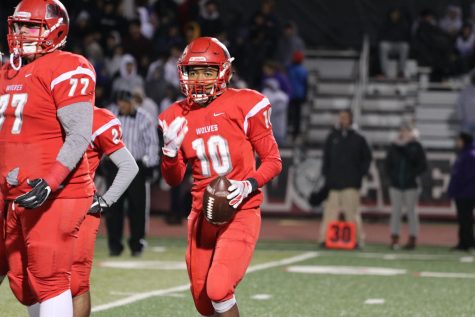 Christian Lewis, football: Lining up on the bottom of the numbers, senior Christian Lewis patiently waits for the snap of the ball. After the snap, Lewis takes off up the sideline, leaving the cornerback trying to cover him in the dust. He's wide open as the quarterback bombs him a pass. He snags the ball and sprints into the end-zone for a Wolves touchdown. Lewis was one of the top performers on the football team, playing both on offense and defense. He led the team as weekly captain multiple times throughout the season and consistently played his heart out every game. "The hard work, time, and effort have paid off on the field. I am dedicated not just to my team and coaches, but to the school that allows me to put on the jersey that says Niles West on the front of it," Lewis said.
Use this link to VOTE for your two athletes of the season. 
Contributions made to this story by Ethan Carey and Lexi Lee.