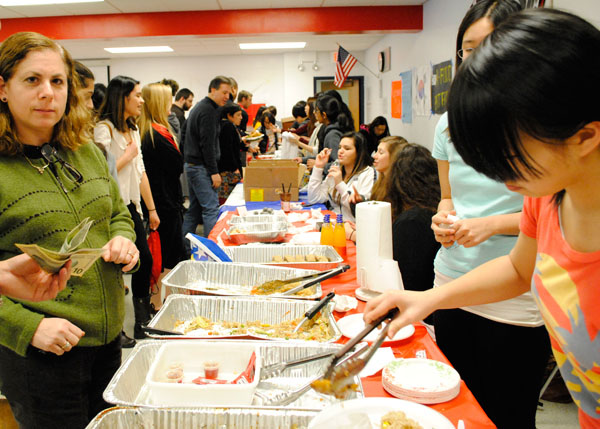 Hosted by over twenty of West's cultural clubs, Niles West's International Week is a very important part of the school year and curriculum that allows for the celebration of the different cultures that make up the diverse student body that West is known for. The greatly anticipated International Week will begin on Monday, Feb. 4, but unlike previous years, will only last one week rather than two. 
International Week focuses on uniting the cultural clubs here at West to create fun activities for the students. Activities include an opening ceremony, food booths from the different clubs during lunch periods and musical entertainment.  
This year, the school has decided to shorten the event from its original two week-long festivities to just one week. The reasoning behind this decision occurred after weeks of deep thinking from the school staff who felt the change would be necessary, but why exactly did they feel this way?
"I've noticed in the last few years by the time the second week was coming around, the hype just wasn't as hype as the first week was, sort of like a trickle-down effect," student activities director Katie Odell said.
These observations were brought to the attention of Odell by several other teachers, so with permission from the board, she decided shortening the event would be the best option to provide the different cultural clubs with more opportunities for attention from the student body.
Odell's theory seems to be prominent among not just the staff, but the students as well.
"I think it's a really good idea because people usually enjoy the first week and then the momentum dies, sophomore Dean Paul Cordero said. "The International Feast is a great example, because that's usually where all the excitement is, and once it's over I feel like no one really notices there's another week."
Many of the upperclassmen have noticed the same pattern throughout the course of their high school years.
"After experiencing three [years of] International weeks, I can definitely see why they would shorten it down. The second week is like the forgotten week a lot of the time, people just don't pay attention to it. It's something I've noticed since my freshman year" senior Laura Trinh said.
By shortening International Week, Odell is also hoping to increase the student's desire to learn more about their classmates' cultures and traditions.
"I want to keep that focus that whole time on celebrating each other's cultures, I don't want it to feel like we come back from the weekend and people forget," Odell said.
Some changes to look out for this year's International Week include an event every day and fewer days dedicated to music. Other than these changes, students will still get to experience the same International Week festivities they know and love.