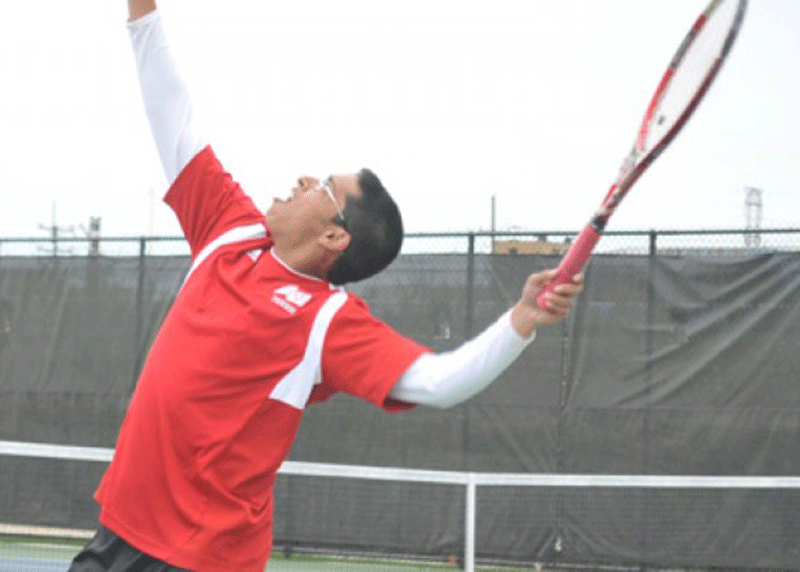 Our very own Niles West tennis boys begin their grind for another gallant season with rackets in hand and ready to strike. The boys are coming together for a unified season kick-off at 6:00 A.M. outracing even the sun. Their hopes to outdo their last year record continue to motivate them to press on and prosper.
Last season, the boys saw themselves sitting right on the fence of 500, with a record of 5-5. Unfortunately, this performance only landed them in sixth place out of eight conference teams. A measly record does not define a team in the least.
Head coach Andrew Suarez says that the team improved exponentially from the beginning to the end of the season. He also notes that team chemistry is the best he's seen in over five years, and he expects nothing different from this season.
"Every match we play is important," Suarez said. "We have a very tough schedule. It is always nice to play well and win against teams in our conference. All we need to do to compete well is to focus on what we have control over and to implement what we have been doing in practice."
Senior captain Alan Duong verbalizes his optimism as well.
"Although we aren't the most talented team," Duong said. "I'm excited to see the guys put in work and improve as players and athletes. As the captain, I want to instill a good work ethic and make sure the guys have the right mentality and approach to the game."
Teammate and senior Elijah Pagador shares the same sense of positive outlook as well.
"I have a feeling this year's team should do pretty well in conference," Pagador said. "I also feel more improved individually."
Make sure to come out and support the boys in action on Mon., April 1, at 4:30 P.M. for the first match of the season, hosted by Niles West.