10Q Chicken; New to Evanston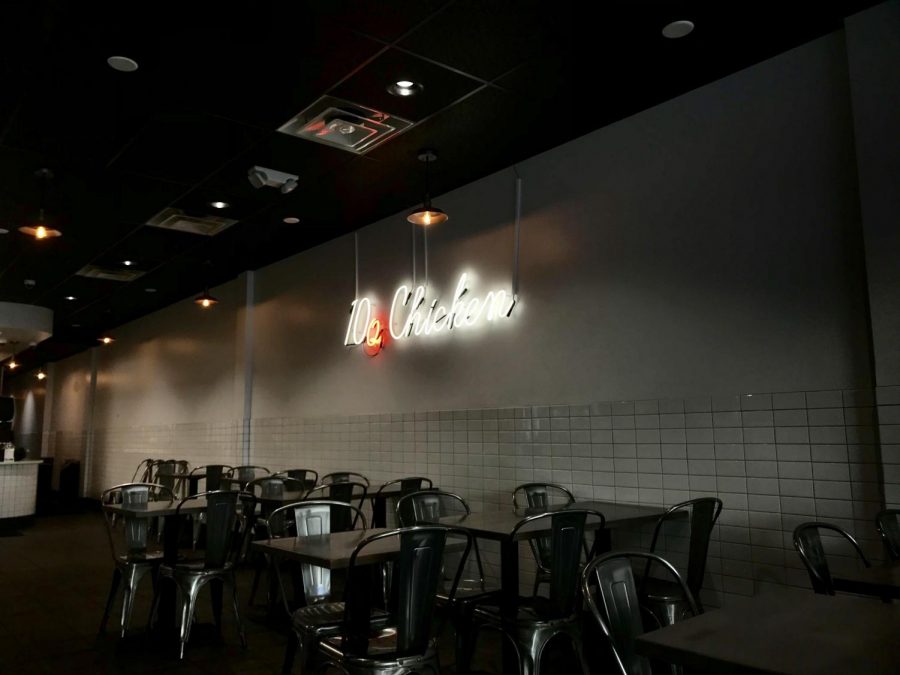 10Q Chicken is a new restaurant that opened up this past fall on Church Street. Right near the popular joints, like Andys Custard, Peeled, Le Peep, Buffalo Joes, Flattop Grill, Joy Yee Noodles, 10Q Chicken has just added to the endless list of places to eat in Evanston.
Based on the name 10Q Chicken, you shouldn't be surprised to hear that everything they sell is something chicken… chicken wings, chicken bowls, chicken sandwiches, you name it. Despite how small the restaurant looks from the outside, it is the complete opposite on the inside. When you walk in, you are welcomed with such a clean and spacious environment. You are also hit with such a cute white and orange neon sign that read "10Q Chicken". With a black ceiling, white walls, white tiles, steel tables, steel chairs, and steel stools, the main vibe that was given off was a clean modern touch.
To say at the least, I was quite surprised at how many people came in and out those doors during the one hour I was there. I went around 3 pm, and I would say about seven or eight different customers came in either by themselves or with a few others. Although it wasn't an attendance day for students as it was Presidents Day, it still shocked me how many bodies were in the restaurant on a Monday afternoon.
I ordered a chili buffalo chicken sandwich that came out to be eight dollars. Yes, it sounds a bit pricy for it to just be a chicken sandwich, but it was a big piece of chicken. It came between two warm, toasted buns and laid on a bed of a creamy buffalo sauce and pickled jalapeños. In my honest opinion, I think it was worth the eight dollars, it was very tasty and filled me up. A "side" that I ordered was dill pickles. This was the only thing that seemed a bit off for me. Since it was a side, I was expecting it to be a spear. Instead, it was slices of a pickle in a little condiment plastic container. The cook gave me two of the little containers for only having to pay for one, which was very kind. The thing is is that these pickles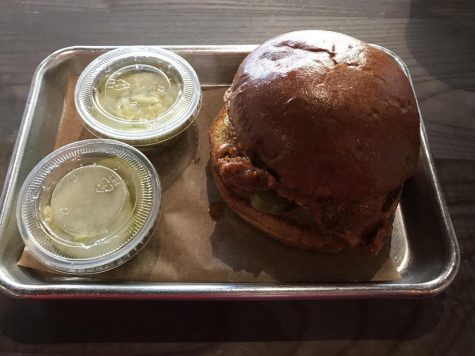 were like the ones that usually already come IN the sandwich already. I'm not even going to complain, they were very good crunchy pickles and I love pickles so I think it was worth the extra 99 cents.
The service hands down added to my positive experience. I was greeted to order with nothing but a smile and received my food the exact same way by the cook himself. Kept clean and organized, near the fountain drinks is where you were able to find anything you would possibly need when eating at 10Q. Plastic utensils, sauces, and boxes for your leftovers.
Overall, I would give this new restaurant a 9/10. Although the food and service were amazing, they did not have much to choose from on the menu. I felt satisfied with the experience. However, I wish the menu was a little more expansive because  The location is also such an ideal spot for a date or a hangout with friends. You can grab a bite at 10Q, then go out for custard afterward at Andy's or go see a movie at Century 12. I would most definitely recommend stopping by 10Q Chicken.