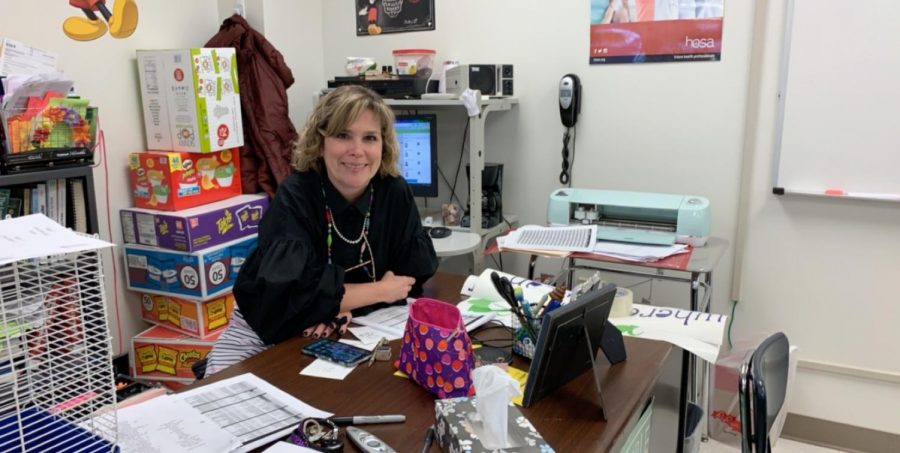 If you have ever seen the super festive classroom by the south lobby with a skeleton that dresses accordingly, then you've passed by the territory of Science Instructor Lisa Dunham. Dunham has been a part of the West family for an outstanding 27 years.
For nineteen years, she primarily taught child development, fashion, and foods. In her more recent years at the school, she has taught Health Careers. Dunham was influenced to become a teacher when she was young, growing up having teachers that she loved.
"I had really great teachers in high school; however, at first, I wanted to be a physical therapist. That's what I really wanted to do until I had my first chemistry test, and I decided to change my mind," Dunham said. "I really enjoyed my family and consumer science, and at that point, I decided that teaching is what I really wanted to do."
Students who have taken her classes know all about how fun she can be, but also learn the material she provides. Dunham has a way of going around the traditional lecture to make learning more appealing to the student. West alum from the Class of 2018 Diego Acosta highlights his time of being with Dunham in the classroom.
"Being in [Dunham's] class was a lot of fun and I also learned a lot. During the year, she was able to make the class very entertaining while at the same time teaching us the material of the class. That's the reason why I would look forward to her class every day," Acosta said. "She was such a great teacher, as she found ways around the traditional lecture/take notes class ideology and was able to make the class enjoyable, but at the same time effectively teach all of her students."
Dunham is also the sponsor of HOSA – Future Health Professionals (Health Occupations Students of America), a competitive club where students can learn about various careers in the health field and compete against others.
"HOSA is a club that allows students to explore health careers and develop projects and bring those to the state level where they can compete and possibly qualify for nationals," Dunham said. "HOSA is very similar to DECA in regards to developing the projects, the community service, and that sort of thing."
One of the many members of HOSA is senior Diana Panoutsos, who qualified for nationals last year and hopes to qualify again this year. Panoutsos complements Dunham for all of her help in not just the classroom, but also in HOSA and on a personal level.
"Mrs. Dunham is one of those teachers that truly cares about her students. She helped me tremendously with narrowing down what I want to do with my future and she has always been supportive whether it was for HOSA or health careers," Panoutsos said. "Between her extensive help with our projects and just always being someone I can talk to about anything, she is one of those teachers you can always rely on.
Dunham leaves her students with a smile and a "Be safe and make good decisions!" every day. With a passion for her job and a strong love and care for her students, Dunham is a wonderful piece of the West family.