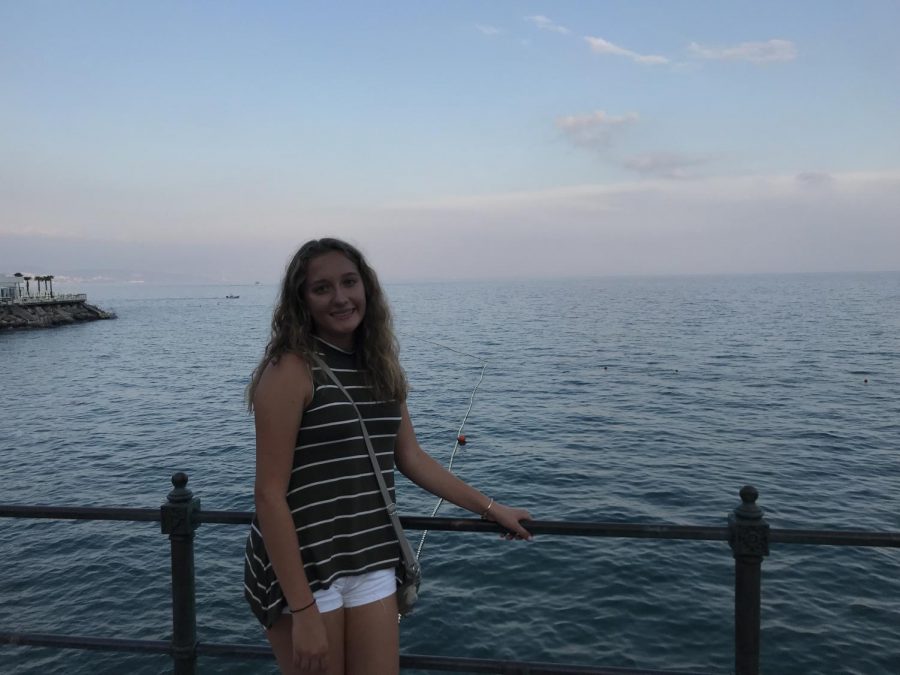 Marija Kraljevic
With her instrument in hand, she plucks the string to hear the note play, making sure it's in tune. Looking up and ready to perform, she walks onto the stage with her group members following behind her. The bright and beaming lights blind her, making it impossible to see the anxious crowd of people waiting to see what they'll do next. Together they line up in their positions, play their hearts out and sing as if nothing else in the world matters.
Sophomore Katerina Rizzotti has been apart of her Croatian Folklore group ever since 6th grade. The name of her group is Hrvatska Loza, or in English, Croatian Vines. The "Vines" in the group name symbolizes the male and female dancers, singers, and musicians coming together and acting as one united vine.
"Every Monday we meet at the Croatian Cultural Center of Chicago for about 3 hours to play our musical instruments which are called tamburas," Rizzotti said. "I play an instrument called a brac which has two guitar strings and two mandolin strings and is a little smaller than a guitar." 
The group performs traditional folk dances that were historically featured throughout Croatian villages and towns.
"We recreate dances that were originally performed in Croatian villages and in a special outfit called a nošnja. They are dresses that have three layers and are all made from scratch. They all differ between all the different dances that are performed and the region that they're from," Rizzotti said.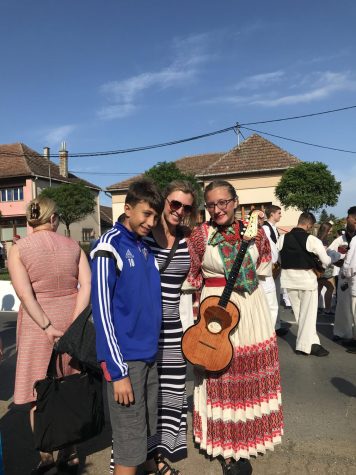 Other than performing around the United States, the group also performs in Canada for the annual Canadian Croatian Folklore festival. Folklore groups from Chicago, New York, Cleveland, Windsor, Montreal, and other Canadian cities come to perform and meet other Croatians. The other local Croatian Folklore group from Chicago that performs at the festival is Croatian School Kardinal Stepinac. Around every four years, Croatian Vines also travels to different regions in Croatia to perform their dances.
"My group and I traveled last summer to Croatia," Rizzotti said. "We performed in the major cities in Croatia such as Slavonski Brod, Split, Pula, and Vukovar."
Fellow member of the folklore group and friend, sophomore Magdalena Soldo, explains how much of an impact and positive effect Rizzotti has on the group.
"Katerina joined the group around four years ago and for someone to join not really knowing Croatian or the culture, as well as other people, was impressive," Soldo said. "She never played a tambura before, but eventually she got very good at it- faster than I did. We needed taller people in our group too, and with her height, she was the perfect addition."
Other than being half Croatian, Rizzotti is also half Italian. Her mother is Croatian and her father was born and raised in Italy. Although she isn't currently involved in anything Italian like she is with Croatian, Rizzotti had previously been apart of Italian school from eight to ten years old where she learned the Italian language every Saturday for three hours. In an attempt to connect more with her Italian roots, Rizzotti joined gourmet cooking at West and is inspired every day by her father and his cooking work.
"I am involved in gourmet at our school because I enjoy cooking and it's a very common hobby of many Italians," Rizzotti said. "My father is a judge on Iron Chef America and also goes to many famous cities to express his love of Italian food and to spread the greatness that comes from every dish and how to perfect dishes using certain Italian products."
Rizzotti takes part in various sports such as tennis and water polo. While it's only her first year doing both of these sports at West, she's still made quite the impression and has proved to be a great asset to the team.
"Katerina is very competitive and she likes to put her full effort in everything she does," sophomore and water polo teammate Abbey Eapen said. "She's a good addition to the team this year because she's very good at swimming and is fast and aggressive which are the two main things we need during games."
With all the various activities Rizzotti is involved in, she continues to take pride in her nationality and surrounds herself with many Croatian and Italian elements.
"The best part of being in my folklore group is experiencing what my ancestors did and reliving their lives," Rizzotti said. "I also feel very proud of this group especially when we perform in different areas and around Chicago because it lets our society see the diversity in our community and how young children are beginning and enjoying to share their culture with others." 
Rizzotti is a unique example of someone who holds on to the traditions found in her Croatian culture and expresses her love for Croatian folklore dancing while staying true to herself and her ethnicity. Come and see her next performance in downtown Chicago at Daley Plaza on May 10.