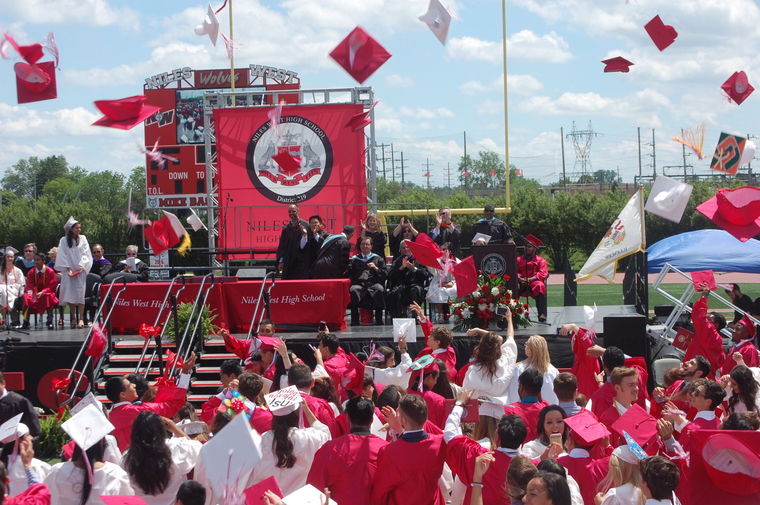 As we're beginning to get deeper into the school year, and the seniors start to think about and maybe even apply for colleges while juniors are buying SAT study books from Barnes and Noble and scheduling studying appointments for the big tests. Freshmen and sophomores, you all probably have college on the back of your mind as well, if not the front.
So, with all this in mind, here are some of the opinions of our now alumni, Niles West class of 2019, on their new experiences in college and even some advice for you all.
To begin, basketball superstar and scholar Lidia Fakhoury, who now attends Depaul University in Chicago has some advice for the current West students.
"Really push yourself, and plan goals for yourself, talk to people you wouldn't normally talk to. At West, have the best last times of your life. People say high school really flies by and you don't really don't think about it, but it really does. Enjoy your time." Fakhoury said.
Fakhoury especially likes the course options given in college.
"The courses are different because you don't have to take all your traditional courses like in high school, you can pick courses that really interest you, and they still count as a credit," Fakhoury explains.
This is great for Niles West students since there is such a diversity of students with various career interests and hobbies.
Another 2019 West graduate also agrees with Fakhoury in terms of the amount of freedom given in college versus in high school.
"College gives you a lot more time, but more homework. Overall, though, more freedom. My favorite part about college is the environment and the freedom given in it like I can go to different places on campus to or to do my homework and study," says UIC student Michail Maris.
Class schedules seem to be another common perk amongst West alum when it comes to college.
"I find the college schedule to be a lot easier than high schools schedule, because I go to my classes once a week, most of them being about three hours long, but it's so much better than a repetitive high school schedule," Freshman at Columbia College Vanessa Bittar explains.
If you were interested in the different courses you're able to take in college, Bittar is the prime example. She's taking mostly all fashion classes at Columbia College, in hopes of moving to a more fashion-centered school in New York or California in the next year or two.
Another bright graduate, Laura Trinh, is also doing well pursuing her career choice in life after West.
"Life after West is a lot more different than life at West. There's a lot that I've had to learn and adapt to, but I'm enjoying college a lot because I'm taking so many classes that pertain to my major," explains Trinh.
Trinh is hoping to pursue a career in physical therapy/athletic training after college.
"My plans for college are not only to do well and work on my academics but also on physical and mental health. College is very draining and tiring (I'm pre-med), but my plans after my four years at Loyola are to get into Physical Therapy school hopefully in the Chicago area as well," said Trinh.
As you can see, the class of 2019 has bright futures ahead of them after their time here at West, and are very much enjoying college.