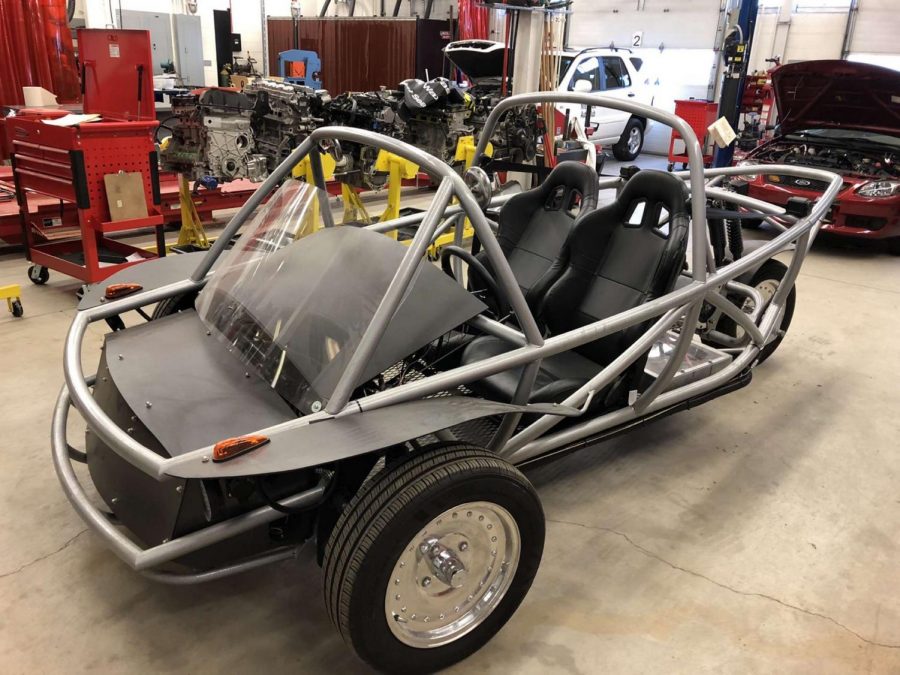 A couple of years ago, the Niles West High Mileage Club began a project they have never done before: building an electric car. West was the first school in the area to tackle such a project
The High Mileage Club, which has been sponsored by Brent Garner for the past two years, received a package from the company Switch Lab. They started the project back in 2017, and since then, the club  put in the time and effort to build the electric vehicle.
"This is the first time we have done a kit like this. There was a push years ago to electrify one of the district vans that they were using and it was just too complex to do. They actually had sent me for training on how to do conversions, maybe in 2011 or 2012, and just after looking at how big of a project it would have been to convert the van we decided not to do it," Garner said. "We selected the model that had the most technologically advanced battery and propulsion system, and we started it out as part of the High Mileage Club, where a lot of students worked on it."
At the time of the project's start, the club was roughly 25 students, most of whom were juniors and seniors who have since graduated. Senior Kiel Hall was a sophomore when he began working on this lengthy project.
"We started working on the car in September of 2017, me and two other students would come in every Monday after school and would go until five in the evening. It took a lot of hard work to assemble it," Hall said.
Fast forward to March of 2019: the electric car was driven for the first time.
"[Last March], the representative of the company came out and gave us [information] on how to put it together. So we had it almost done, we had it at about 98% done and then we held off until the representative came out to help us with it. The cool thing about it is the version that we purchased has the most up to date battery packs and utilizes the most latest technology and drive systems," Garner said.
A project of this scope came with ups and downs and proved frustrating at times.
"The project came with its difficult time, like putting the one hundred pound motor in by hand. My proudest moment while working on this project was the day we started charging it, and it didn't blow up in our faces," Hall said. "But in the end, it was worth it. [In the] spring of 2019 we actually dissembled the car completely to let some teachers to take a shot at building it. They did, and now the car sits at the auto shop."
Even students who are not in High Mileage Club took notice of the new project.
Senior Jake Cachila has always been interested in electric cars, and when he learned about one that was built at school, he was impressed by the work that was put into it.
"It is crazy to know that things like this are built here at West. I give a huge applause to the students who worked and completed this car, I know it was very time consuming and they completed it with success," Cachila said.