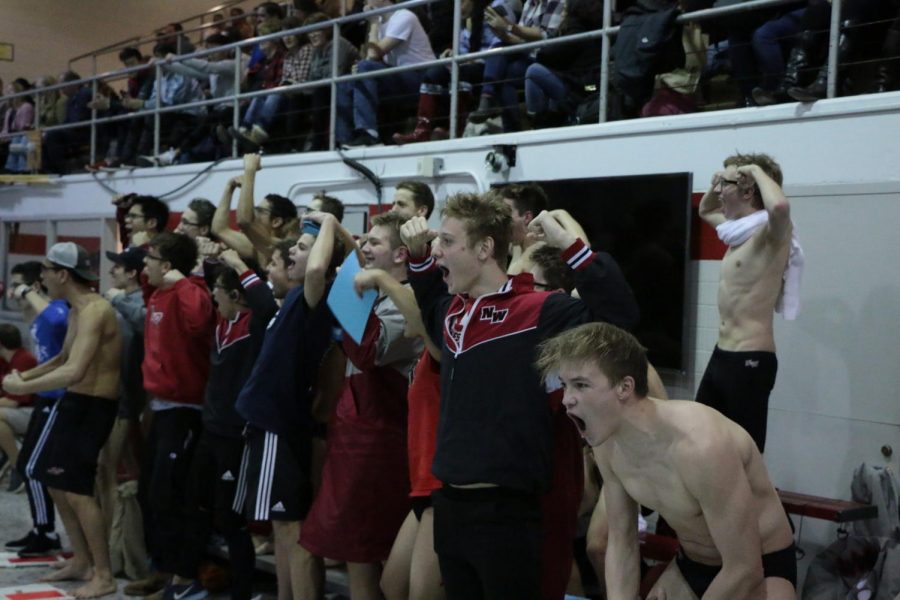 Mateo Acosta
The boy's varsity swimming and diving team will continue their season with a meet against rival Niles North before the beginning of winter break. Tonight, Dec. 13, 2019, they will hit the pool all with the common goal of taking down North one last time.
This meet marks the third of the boys season and they are looking to cap off a good start to the season and set them up for success the rest of the way down.
"The North Meet is actually a meet I'm looking forward to because rather it being a usual test of our skills and where we are at at this point in the season, it's a more fun enjoyable meet with fun events that are only meant to be fun rather than us swim. So although we may swim, I'm looking more at the team bonding aspect as Friday approaches and having fun," senior Adrian Acosta said.
Each swimmer on the team has their own goals that will help improve the team as a whole for the rest of the season
"Although there aren't many goals this weekend, we do have one set for our Medley relay. Luka, Nikola, Gabe, and I are being put together to swim each of the different strokes in one race just to see where we are at and if state is a possibility. My personal goal for us would be within 3-4 seconds of the state qualifying time or of our own best time. But honestly, going as fast as I can and trying to get the best time will always be a personal goal at every meet, because at every meet we have to give it our all or what is the point of going if we're not going to try," Acosta said.
The team is really looking forward to a solid season this year going up against other talented teams but they are ready to make a name for themselves tonight.
"We are expecting to compete with a lot of other great teams in this area. The meet this Friday is a meet specifically featuring sprints, which is what our team specializes in so it should be really exciting," senior Bryan Pryzby said.
Although the season just started for the boys, they couldn't be more ready or excited for the remaining meets with jumping into the pool and giving it their all.
"We are only three weeks into the season so we are still trying to get into the groove of things and getting to know and work with each other. My teammates have really been pushing themselves within the short amount of time and it will be no surprise to see some dropped times this Friday," senior Brandon Fong said.
For most of the boys on the varsity team, this marks their last year as high school athletes giving them the drive to be the best team in the conference and beyond.
"The most important thing is to have fun. This will be my last year swimming in high school so I will be sure to make it the most memorable," Fong said.