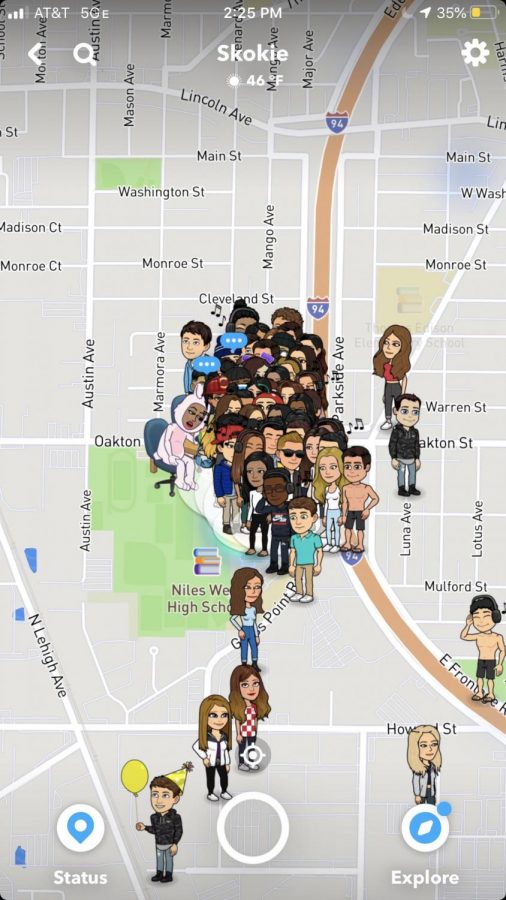 Fights at Niles West have seemed prominent during second semester, with social media facilitating the rapid sharing of video and photographic evidence of the altercations. In total, 55 fights have occurred so far this year.
According to information emailed by Deans Tim Dykes and Alana Laury, the number of recorded physical altercations has not increased relative to last year. There were four fights that occurred between Feb. 4 and Feb. 14 that were accounted for by the deans' office. 
The Niles West News obtained video evidence of at least five separate fights that occurred in February. Three fights occurred in close proximity to the South Lobby, with two in the lobby and one outdoors. One occurred in the boys' locker room, and another in a bathroom close to the biology wing on the second floor.
While fights may not be new to Niles West, Snapchat and Instagram have provided avenues for a rapid circulation of information that has made fights more obvious and seem more widespread.
"In some instances after investigating fights we have identified that the start of the communication began with the involved students using social media [in order to] publicize that a fight will take place," the deans wrote in an email. "We encourage students to use social media responsibly."
Senior Wissam Bousheh, who witnessed a fight, believes that fighting is a larger problem this year than in the past.
"Since my freshman year, I've noticed that there have been many more fights this year than any other," Bousheh said. "Also, it's not really the seniors that are fighting, it's more of the underclassmen." 
Senior Sam Missar, who also witnessed a fight, says he thinks most of the problem is due to students who escalate their own disagreements. According to the deans, much of that escalation has been facilitated by social media.
"[I don't feel like the environment at Niles West facilitates fights], but there are some people at school that [escalate] small arguments into physical ones," Missar said. "The environment at West is not hostile nor do I feel unsafe or unsure if someone is going to get into a fight."
Although social media transmits information about fights more quickly, both students say they don't feel that it's made fighting at Niles West any easier or more likely. 
"I don't feel like it's easier to fight now, because our security force is so big and organized. Almost everywhere you go, there's a guard watching your every move," Bousheh said.
"I wouldn't [say that it's easier to fight at West now], but I could be wrong. Niles West does a good job of keeping students safe with the cameras, security guards, and staff that we have to prevent a lot of fights from occurring," Missar said.
Consequences for fighting vary based on the severity of the altercation, among other factors. The Student Handbook states that fighting entails either a Level C or a Level D punishment. Students who are given Level C punishments either receive an out-of-school suspension for one to three days or a police referral, depending on the dean's assessment of the situation. Level D punishments are more severe, and include recommendation for expulsion, a four to 10 day out-of-school suspension, or a police referral.
Students who are found to need alternate schooling are most often placed at either North Cook Young Adult Academy or Niles Central High School.
"Students placed outside of Niles West are handled on a case by case basis," the deans wrote. "We offer various interventions both inside and outside of school."