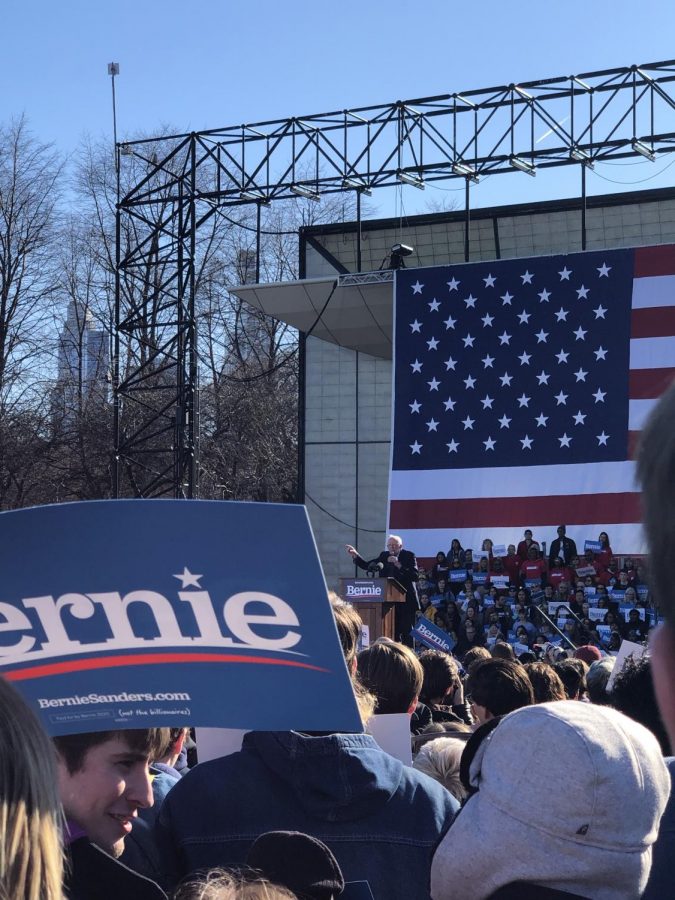 Sarah Waters
Some Niles West seniors who plan to vote in the March 17 primary attended a rally for the Bernie Sanders presidential campaign in Grant Park on Saturday. Over 15,000 people attended the two-hour outdoor rally, according to the Sanders campaign.
The 2020 election is the first in which the class of 2020 will be eligible to vote. Seniors Brian Pryzby, Ryan Volpe, and Libby de Klerk attended the rally after deciding to vote for Sanders in the upcoming primary.
Pryzby attended the rally after having early voted for Sanders and other local progressive candidates this past week. He cites Sanders's progressive policies, such as single-payer health care, as the reason for his support.
"I have supported Bernie for the entirety of the primary due to his earnest, progressive ideals," Pryzby said. "He is a fighter and goes against the status quo that has been set by the wealthy in power of both parties. I wanted to see someone I've looked up to in person, and I enjoyed being with a group of like-minded people."
Like Pryzby, Volpe supports Sanders for his staunch progressivism and his calls for structural, systemic change.
"I support Bernie because I feel like what he is fighting for is very much in line with what I believe," Volpe said. "I have seen what it's like to not be able to afford school and be restricted by student debt. I know what it's like to give up hours of your life and your labor for minimum wage and to worry about not being able to afford medical care. I also believe that we spend too much on our military budget and that we must take action against climate change en masse as soon as possible."
Volpe, who is a transgender and bisexual man, cites Sanders's advocacy for LGBTQ+ civil rights as a reason for his support. Having lived with mental illness, he also supports Sanders's calls for increased access to mental health resources and facilities.
"On a very personal note, I am a person who has chosen to be very visible with my identity as a part of the LGBTQ+ community and as a mentally ill person," Volpe said. "I need to know that I will have rights, even though I am transgender and bisexual. I also need to know that I will have access to mental health facilities. I need a candidate who has a voting and political history that supports not only the rights of people like me, but the rights of minorities, the working class, laborers, those living in poverty, and across the board."
For de Klerk, who is also involved in animal welfare activism, seeing Sanders speak was the most rewarding part of the event.
"My favorite part of the rally was Bernie's speech," de Klerk said. "Obviously, it was what we were all most excited for, but when it actually happened, the energy was incredible. It was amazing to be in a giant crowd of people, all ready to fight for better lives for all. It was really powerful, and I'm so happy I got to be a part of it."
Sanders enjoys broad support among young people writ large, especially those under the age of 29. According to the New York Times, Sanders won the youth vote by huge margins on Super Tuesday, the largest primary day of the season in which California, Texas, North Carolina, Virginia, and other states voted.