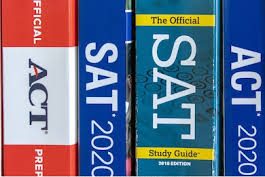 With multiple high schools in America being shut down due to the pandemic, there has been a multitude of efforts for students to help them adapt to new standards, especially for juniors. This is one of their most critical academic years, and it holds important milestones, such as taking the SAT and ACT.
Junior year is generally when students are able to explore their options and really get a sense of where they want to go post-high school. This year will be definitive for the 2020 juniors. They will need to figure out new ways to learn about colleges and start preparing themselves for the SAT/ACT.
Unlike the class of 2021, where the majority of the schools waivered the SAT/ACT, it hasn't been officially announced whether schools will do the same for the class of 2022.
"Since I'm a junior, I'm caught at a time where this pandemic has altered the rules and requirements of admissions to some colleges, so I have to replan some things…[As for SAT/ACT prep,] I've been using my ACT/SAT study books, and they've been super helpful in guiding me through the details of each test," junior Ejona Basha said.
Another way that students are trying to build up their college applications is by volunteering. There have been multiple clubs that allow students to virtually get involved in their community. For example, the WHO club at Niles West hosted a meeting last Tuesday, communicating with the Niles-Maine Library District about the virtual volunteer opportunities that they offer. The Niles-Maine Library District has offered volunteer hours if you join a reading club, write for their blog, and much more.
Everyone is still trying to figure out the game plan for volunteering and schedules. For junior Sajjad Al Shimmry, all aspects of the process are still relatively new. "I have been busy with homework and such. But I don't know how it will work," Shimmy said. "Virtual volunteer sounds weird and new."
Additionally, Juniors will not be able to get the full-on college visit experience, but many have put in an effort to set up virtual campus and informational tours. College and Career Counselor, Daniel Gin, has been sending out emails every week alerting students which colleges will be hosting a virtual meeting for Niles West and when.
Virtual college visits do have some benefits. It allows students to be more flexible, view content from the school, and have one-on-one conversations with the administrators and admissions officers, as well as provide students a chance to see the campus if they could not do so in-person.
However, some downsides of virtual campus tours are that students won't be able to get a literal feel of the campus and see if they like it or not. They will have to research and base their thoughts on the perspectives of alumni and current students at that school.
"I've been trying to do as many college visits as I can online, but I feel like you don't get the real experience you would get in person. Personally, for me, it is hard to decide on a school by doing a virtual visit," junior Saira Khatoon said.
This year has been such a different and crazy experience so far. Juniors do not know what to expect in the future for college-related topics, but many are trying to do the most to prepare themselves for whatever is thrown their way.