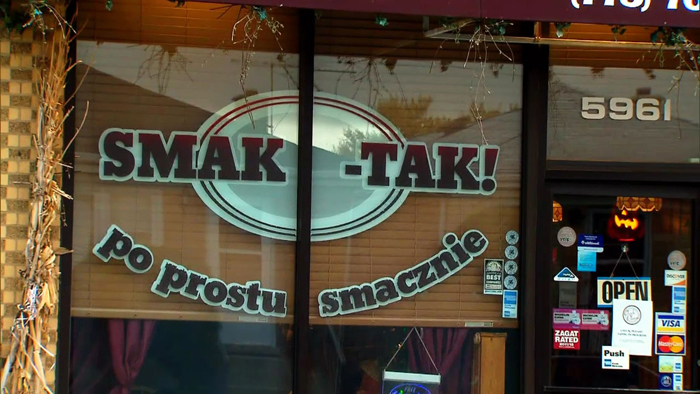 If you're looking for a great taste of Polish culture, I highly recommend going to Smak-Tak, a family-run restaurant situated in the suburbs of Chicago, specifically 5961 N Elston Ave. It's open from 11:00 am to 9:00 pm Tuesday through Sunday and is closed on Mondays. It has a nice and cozy atmosphere, and the staff is very friendly. The food always comes out perfectly and exactly how it looks on the menu, which is a rare thing to find these days. 
The menu has many different options, going from sweet cheese blintzes to savory breaded chicken breast. There's even pierogi, the Polish classic. They also serve soups; borscht, mushroom, and rosól. I had a tough time deciding what to try, but in the end, I ordered the sweet cheese blintzes, rosól, and a Tymbark juice as that was the only other option to sparkling water.
The soup was served first and was very delicious. It wasn't greasy and had a nice consistency. They also weren't stingy on the noodles, which is always a good sign. Next came the main course: the sweet cheese blintzes. In my experience, it's very difficult to get the taste of them just right, especially when, as they did here, it's also drizzled with chocolate and sprinkled with powdered sugar. It's difficult to get the tastes to match, but here they did a perfect job.
They also had some fruits on the side, which complimented the flavor very well. I really enjoyed them and highly recommend ordering them for a first-timer, as you can't go wrong with them. 
What I don't recommend, however, is the pierogi. They have a weird consistency, and their sweet cheese isn't as advertised. They taste more like pirozhki than pierogi and are blander. That's really the only bad food on the menu, though, and in reality, it could've simply been a bad batch. There are also other flavors of pierogi, and they allow you to mix any flavors together, which is what I'll do next time I go.
All in all, this place is really homey and a really nice restaurant to get a taste of Polish food in. I very much enjoyed my time there, as well as the food I tried. While the website may seem a bit unprofessional, I understand that it's hard for family-run restaurants to make it uber-professional. I've heard only good things about the restaurant from others as well, so I'm sure that it's not just me who enjoys it. I very much recommend going there, and I give it a 9/10.