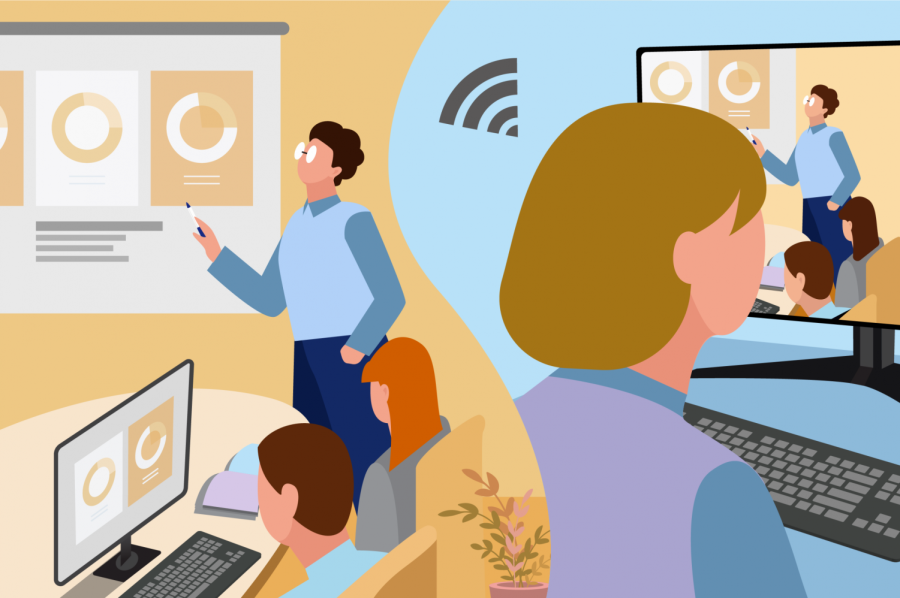 As the last day of school approaches, remote students and hybrid students alike are now preparing for the end of the school year. However, many of said students believe that hybrid learning shouldn't have been introduced— that instead, Niles West should have been in remote learning for the entirety of the school year.
"School should've probably stayed remote for the rest of the school year because hybrid was introduced as we were nearing the end of the year," senior Ameera Vohra said on the matter. "I get that it couldn't have come before, but going to school for two hours and then coming home right away seems a bit pointless. I feel like we should've stayed home." She went on to say, "Of course we'd have to go to school eventually, but maybe when the COVID-19 case numbers were more down?"
Many students feel that, due to the pandemic, Niles West should have prioritized the remote learning experience over the hybrid learning experience. Since everyone, including both students and teachers, took remote learning before the introduction of hybrid learning, the remote learning experience held more relevance than the hybrid learning experience.
"In all honesty, I feel like instead of switching to hybrid, the school should've focused its resources on creating a better remote experience since many students struggled to learn this year," senior Rabeeka Khan said on the matter. "I feel like because of the fact that some students are online and some students are hybrid plays a huge difference in the learning experience." She went on to say, "Also, test-taking is a very different experience, which can be unfair in the sense that some students struggle taking tests through a screen."
In addition, there were still cases of COVID-19 appearing daily during hybrid learning. As such, many students also feel that the safety of students (and staff) would have been more secure via the prioritization of remote learning over hybrid learning.
"It was irresponsible for school to open up before everyone got both doses of the vaccine," senior Althea Bibat said on the matter. "They were more focused on when and how they should open school instead of improving what it was then."