The Japanese Restaurant Right on the Corner
Sunday nights are packed, but it's not difficult to get a reservation. The tiny Japanese restaurant located at 3956 W. Touhy Avenue has been in Lincolnwood for about 30 years. Limited to only pick-ups in the height of Covid, Renga Tei is again booming with service. The sit-down restaurant has a cute interior, with a shoji (a divider used in traditional Japanese architecture) decorated all around the wall to replicate Japan's culture.
Immediately when stepping into the restaurant, you're welcomed into a booth where water and menus are brought out immediately. Eating with a group of four, the menu is able to accommodate everyone having everything from sushi to meals to kids' menus. Although it houses a wide selection of courses, the menu can become unorganized when searching for a meal.
The first thing my family ordered was appetizers. Depending on your meal, you typically get a miso soup or a side salad. The salad is refreshing in the summer, while the soup keeps you warm during the winter. I actually loved the miso soup at Renga Tei because it's not too salty, but still contains a lot of flavor in the broth.
We also ordered some sushi for the table, the majority of which were super simple rolls. What I really liked about the restaurant was the freshness of the food—especially the seafood. The servers are super open with the customers, telling which appetizers are in season and which are not. I think that the sushi was delicious, but the star of the show was their meals.
Each family member ordered something different. I ordered one of the combinations, which was chicken and salmon marinated in teriyaki sauce with a side of tempura. While my mom had gotten a different combination that consisted of sashimi and sunomono (a Japanese cucumber salad).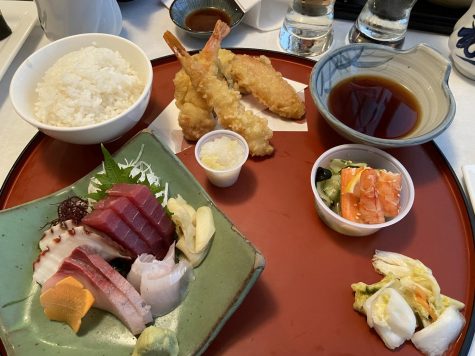 It might not seem like a lot, but the combinations are more than enough for just one person. My brother ordered pork tonkatsu—a breaded, deep-fried pork cutlet—which is also offered on the kids' menu for 11 and under. And my dad ordered the Katsu Curry, a special not on the menu that's similar to the pork tonkatsu, but with curry sauce.
Even after all the food, my family always saves space for dessert. Although the selection is small, they do offer sorbets. Coming in three flavors (mango, lychee, and red bean), the sorbets offer a light and refreshing finish to your palate. I ended up ordering the mango sorbet, and I'll admit… mango isn't my favorite flavor, but to my surprise it was so delicious. In the short 17 years I've lived, I truly think I will never like anything flavored mango unless it's from here.
The restaurant offers take-out by calling in or going through Grubhub or Door Dash. With Covid restrictions lowered, they offer dine-in when they're open from 11:30 am-2 pm for lunch and 4-8 pm for dinner except on Tuesdays. On the weekends, they're only open for dinner from 4-8 pm.
Renga Tei will definitely be a new go-to for me. I think everything came out super fast, the servers were nice, the food was phenomenal, and of course, living in Lincolnwood, I get to support a local business just five minutes away.