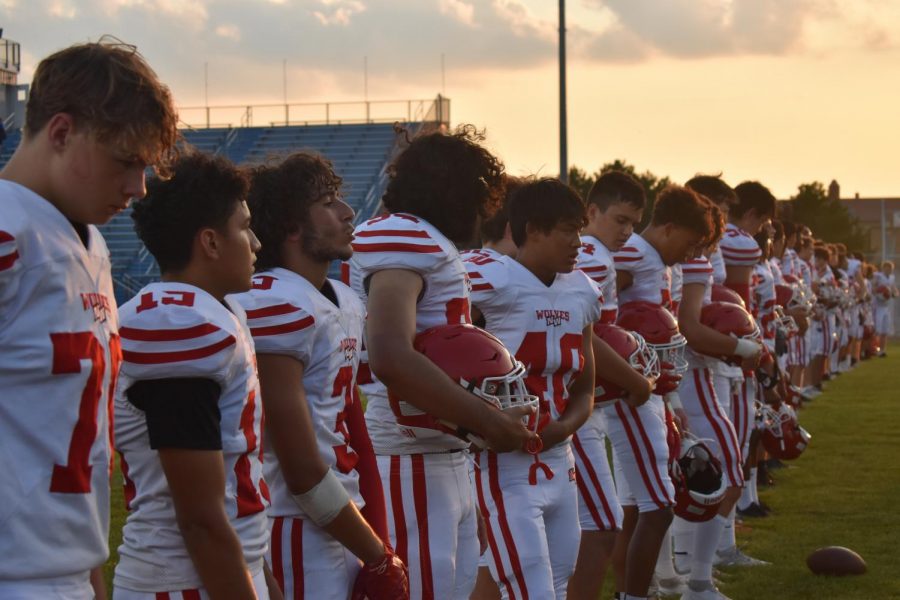 Evi Hatzopoulos
The Niles West boys football team has started the season strong with a 38-9 win over Maine East last Friday, the team hopes to continue their path to success. Earlier this year, they added a new addition to the team, head coach Nick Torresso, whose impact has already been seen early into the season.
"With Coach T as our new head coach, there are definitely some major changes like a different culture, a change in the way we practice, and preparation for games. He really does a good job in making sure that each player shows their full potential—that's what makes him a good coach." one of the captains and starting quarterback Jack Leons said. 
The changes were evident during their first win against Maine East.
Reflecting back to last Friday, Torresso notes the positive aspects that were shown, "We competed across the board. And when you do that, you always have a chance. With it being our first game all together there is obviously still a bunch we need to work on. One thing that stands out is our focus and commitment to doing the little things right regardless of the score or stature of our opponent. Great teams don't raise or lower their level of play based on their opponent".
Not only has Torresso had a major impact on the playing style, but the addition of new team members has changed the environment altogether.
"With the addition of all the new staff, coaches, and managers you can see a huge difference in the environment and spirits of all the players, we clearly all have a better mindset and are all working together as a team/family. Our entire principle has changed and we have become a family together and there isn't a single person on this team I wouldn't die for," said senior wide receiver Max Nauman. 
The statement holds true. It's impossible not to spot the football team conversating with one another other during passing periods when walking down the hall of Niles West. The boys will play their first home game this Friday against Niles North and seem to have their head in the game. 
One of the other captains and wide receiver, Sam Burns recounts on their intensive practices, "we do a lot of different drills because there's a lot to cover in a game like football. But we tend to work on a lot of technique-driven drills at the beginning of practice and more competitive and team situational drills towards the end."
Not worrying about the next team they're playing, the boys are focusing on the next win coming their way. 
"Even though we're playing North this week there's no changes to practice or a special way we prepare for them. It's just another game. We treat them like how we would treat any other opponent," Leons said.
Although the season has just started, fans and players are looking forward to a good season. West will be playing Niles North, who currently has the same standing at 1-0, as their first home game this Friday, Sept. 3 at 7 pm.
Theme is red out, so come this Friday and show your support!