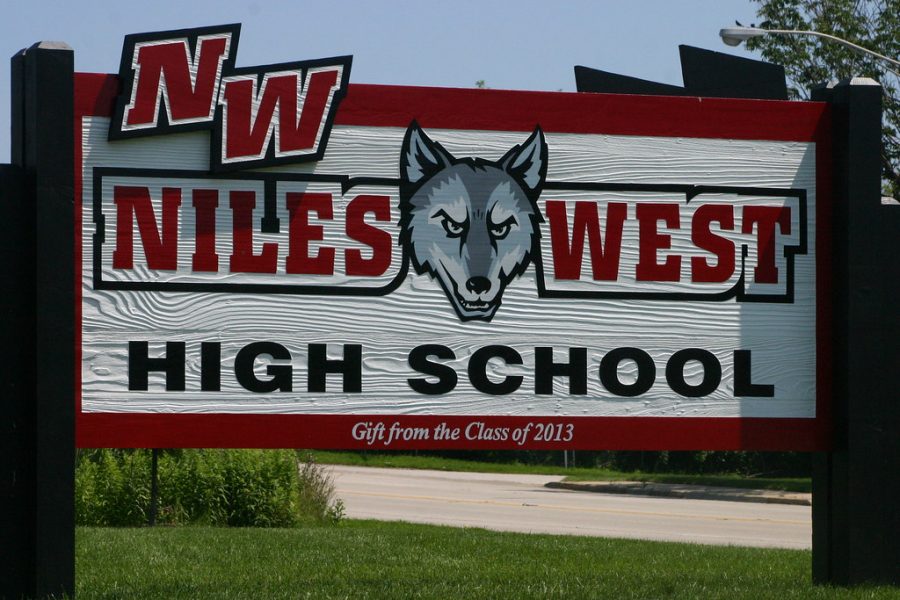 QR codes on cafeteria tables and updated swiping procedures for lunch and study halls were clarified in a Sept. 13 email from Niles West Dean Tim Dykes. The procedures are designed to assist with contact tracing and COVID safety during lunch and study halls. 
Upon entering the cafeteria or study hall, students will notice QR codes at every seat. These QR codes are for contact tracing purposes and lead students to fill out a survey. 
According to senior Aj Mikos, "I noticed the QR codes on each [lunch] table [at the beginning of the year], but no one explained the point of them until I saw the email that was sent out today. However, the staff and security have done a good job enforcing people to wear their masks during lunch when people are not eating."
Mikos was not the only student to notice the lack of enforcement of the QR Codes.
"Honestly, I think the QR Code procedure is really smart for contact tracing and wanting to take precautions, but I think there should be a better way of enforcing this because almost no one I know actually scans the code for contact tracing," senior Dia Patel said. "I think I had a good idea of what the codes were for before the email, but no one around me actually ever scanned them." 
Other than the cafeteria, students are permitted to use the Student Commons and Courtyard for lunch. According to the email, students must have their ID or campus portal with their schedule out to enter lunch and study halls. Screenshots of schedules will not be permitted.
According to senior Josip Basan, "Usually, there's someone to check your ID when you go to the Student Commons, but when I arrive early, there isn't always someone at the door. There isn't any contact tracing, so there isn't anything official." 
According to Dykes, food and drinks are permitted in study hall, but they must be brought from home or purchased from the vending machines before first period. Students are not allowed to visit the vending machine or cafeteria during study hall. 
Students must also keep an appropriate noise level, though consequences for violating this expectation are not clear. This includes remaining in their seat and using headphones or earbuds when listening to audio.
"I have study hall in the auditorium, and while there is no contact tracing there as of yet, you are still required to have your mask on over your nose and sit at least one seat away from anyone around you," said junior Victor Kutkovskyj.
For students who want to use the restroom during the lunch period, they must leave their ID behind and use the 1691 or 1692 bathrooms only unless permitted to do otherwise. For study halls, students must take a restroom pass to the closest restroom.
If students schedule an appointment with a teacher or counselor, a physical pass is needed to leave the cafeteria or study hall. If students wish to visit the Lit Center or Library, they will also need a pass once they enter the cafeteria or study hall. If students desire to go, and they don't have a pass, they must go at beginning of the period instead of heading to the cafeteria or study hall.