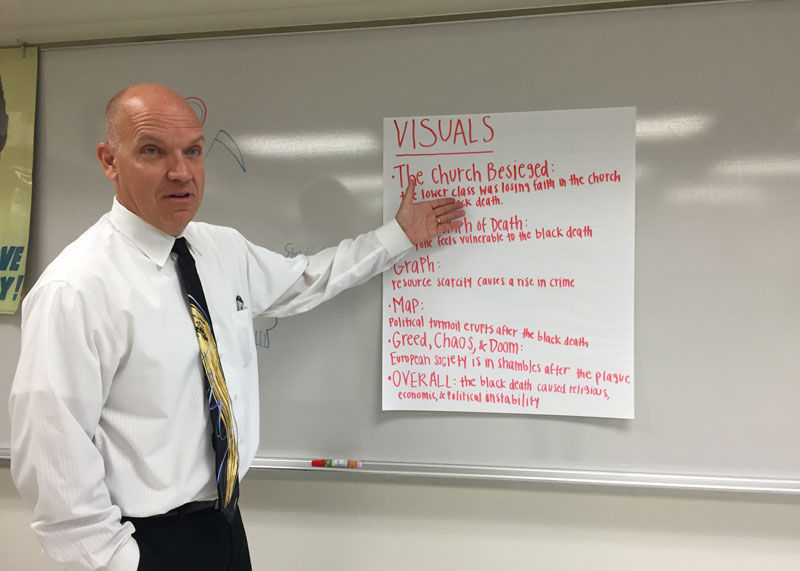 Niles West News
It is with a heavy heart that Niles West reflects on the time spent with beloved history teacher Chris Schwarz. An amazing educator, colleague and friend, Mr. Schwarz left an indelible mark on the school and all of its occupants. He was known for his ability to make even the oldest history relevant and entertaining for his students, but unbeknownst to most of his pupils, Mr. Schwarz was battling cancer. On the morning of Friday, Oct. 8, Mr. Schwarz passed, leaving behind over 30 years of memories of his expertise and kindness with the thousands of students he taught, teachers he sat with and faces he smiled at each day.
Schwarz taught at Niles West for over 30 years. He taught Modern World History, AP European History, and a class that he brought to Niles West himself, World War II.
Angela Tzortzis met Schwarz as a 14-year-old in one of his history classes, and he inspired her to later work alongside him in the Niles West history department. "This year marked the 30th anniversary of that meeting. 30 years of friendship with this kind, caring and loving man," Tzortzis said. Upon meeting Schwarz, Tzortzis recalls his freshly ironed shirt and pants, his wing tip shoes and his hand selected tie.
"Most of my stories about Chris are not big or bold. There's no great plot or adventure. Most of my stories about Chris are about how he made me feel. Chris and I would huddle together in the corner of the office and while he peeled his orange or finished his yogurt he would listen to whatever I had on my mind. He was always the smartest man in the room but he also had the biggest heart.  I cannot imagine a world where he does not answer the phone and call me 'kiddo,'" Tzortzis said.
Tzortzis isn't the only one who was inspired to be a social studies teacher because of Mr. Schwarz. Daniel Kosiba attributes his career to Schwarz: "Other than my biological parents, no single person has played a bigger role in shaping the person I am today," Kosiba said. Kosiba had Schwarz as a history teacher and a baseball coach.
"As my freshman baseball coach, he taught me the importance of approaching all things that are important to me and my life (not just baseball) with conscientiousness, respect, and thoughtfulness. To take the things that were serious to me seriously, while still making sure to find pleasure and joy in those things. As my high-school history teacher at Niles West, Mr. Schwarz inspired me to pursue history and education as a profession. I am a high-school social studies educator today because of the passion for the profession I witnessed Mr. Schwarz demonstrate in the classroom," Kosiba said.
Schwarz served for many years as the chair of the "New Teacher and Mentor Committee," a role that involved welcoming new teachers to Niles West and providing them the support and guidance during their first four years in the district.
"I remember admiring Chris when I attended orientation as a new teacher. His love for the profession  inspired me from day one. He represented — with every interaction, every lesson, every hallway conversation — the very best of our profession," English teacher Lisa Rossa said. "We all miss him tremendously."
Aside from being an inspiring and amazing teacher and mentor, Mr. Schwarz was also Coach Schwarz to the Niles West Freshman Baseball team. Schwarz had a deep love for the sport and would often stay at school later than 8:30 p.m. on nights the team would have games. He held practices 6 days a week and would go home and grade papers afterwards.
"His life was a lot like the game of baseball that he loved so much.  He never came up to the plate swinging for the fences. He came to the plate looking to see what the team needed from him.  He was the first to lay down a bunt, get hit by the pitch, or hit that deep sacrifice fly to the outfield.  He took care of his team and his team adored him for it," Tzortzis said.
In his time as a baseball coach, Schwarz even produced a major league baseball player, George Kontos. "One day George's freshman year, [Schwarz] pulled him aside and said, 'You know if you're really serious and your work really hard, I think you could probably play in college and have some success'" Schwarz's wife, Beth Schwarz said.
Kontos went on to play baseball at Northwestern. During his junior year of college, the New York Yankees recruited him, but he ended up pitching for the San Francisco Giants. This move would land him rings in two world series.
In the 2017 Game Changer Awards, Kontos honored Schwarz at the Fairmont hotel in San Francisco, California. Beth Schwarz recalls sitting next to Draymond Green and feeling star-struck. "[Coach Schwarz] is an extension of my parents and how I was brought up," Kontos said at the award ceremony.
To further honor Schwarz's life, Beth Schwarz and Schwarz's son and daughter, Chris and Katharine have established the Chris Schwarz Scholarship Fund. The scholarship will be awarded annually to a Niles West senior and will be used to help fund their post high school education.
Although Schwarz has passed, the love and memories he created with the Niles West community are here to stay. Whether it be a student he taught in social studies class, an athlete he coached on the baseball team, or a coworker and friend, Chris Schwarz has positively impacted the lives of many and will be greatly missed. Just as principal Dr. Karen Ritter wrote in her email informing the school, "He IS Niles West," and the Niles West community will be eternally grateful for his legacy.