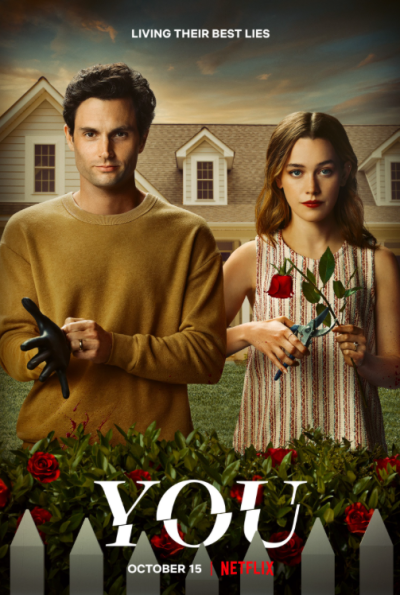 Hello, you. Did you hear that Netflix's hit thriller "You" returned on October 15? No? Well, I can be the person to keep you up to date. "You" stars Penn Badgley, otherwise known as Joe Golderberg, a charismatic man with a bit of a dark side. Being that he is a stalker and a murderer. Last season, Joe finally found his match Love, played by Victoria Pedretti, who is equally as insane as him. In Season 3, Joe and his new wife, Love, move to one of the safest suburbs, Madre Linda, to raise their newborn Henry. Although the town is relatively clean, it is filled with nasty, two-faced cliques of moms.
You may be asking, what can go wrong in a small town with a low crime rate? Well, with Joe and Love, anything can happen. In a town full of secrets and affairs, there is bound to be some jealousy — if you're a psychopath like Love, you might even kill because of it. Now, as you can predict, the plot follows the same pattern as before, being that Joe falls for "you" — the only difference is, he now has a jealous wife. The funny thing about this season is that Joe finally meets someone just like him, but realizes she's too crazy for him.
Though the plot of this season may be repetitive, it is definitely worth the watch. There are so many plot twists with major character development, which is very amusing to watch. As you can expect, there was a lot of death and people being locked in cages, but overall, this season taught watchers more about Joe's background and how impulsive Love can get.
Not only was the plot phenomenal, but so was the acting. Many of the actors expressed strong fear and other emotions, which was clearly present in their facial expressions. In addition, I loved how Taylor Swift's song "Exile" appeared at the ending — the song definitely captured the moment. It described the tale of Love and Joe's story perfectly, as well as how it ended. If you aren't into the stalker thriller-type movies because you get scared watching them, then "You" might be a perfect choice for your next watch. It has a mixture of both suspense and comedy, and the cinematography of the film was unique.
After watching "You," I would definitely say it's worth the watch. The ending was very unexpected, and let's just say Joe ended up somewhere greater. Overall, I would rate "You" a 9/10.