Chicago Blackhawk's Ignorance Leads to a 2 Million Dollar Fine
The Chicago Blackhawks will face major repercussions after new information of a mishandled sexual misconduct incident involving former video coach, Brad Aldrich in 2010, came to surface. Aldrich had worked with the Blackhawks during their 2010 Stanley Cup championship, and resigned from the team at the end of that season. 
In May of 2021, a former Blackhawks player, now identified as Kyle Beach, filed a lawsuit against the Blackhawks organization alleging "two counts of negligence and one count of violating the Illinois Human Rights Act, involving alleged conduct in May 2010 by Brad Aldrich." 
Beach was the eleventh pick in the 2008 NHL draft, and went on to be signed by the Blackhawks organization during the 2010 season. Beach never officially played with the Blackhawks, and continued his career in the AHL, EBEL, ECHL and other international leagues. Beach claimed in his lawsuit that the organization had been informed of the encounter with Aldrich prior to winning the 2010 Stanley Cup Playoffs, but dismissed the allegations. 
After Aldrich's time with the Blackhawks, he went on to coach at USA Hockey, University of Notre Dame, Miami University in Ohio, and Houghton High School where he pled guilty to sexual conduct involving a minor in 2013. On May 26, 2021, another lawsuit was filed by a former player on the Houghton High School hockey team against the Blackhawks alleging "negligence and willful and wanton conduct related to alleged actions or failure to act by the Blackhawks after Aldrich left his employment with the Blackhawks in June 2010 and before Aldrich was arrested in Michigan in 2013."
An independent investigation report was completed by Jenner & Block, an American law firm. The investigation found that there was a sexual encounter in May 2010 that involved Beach and Aldrich in Aldrich's apartment in Chicago.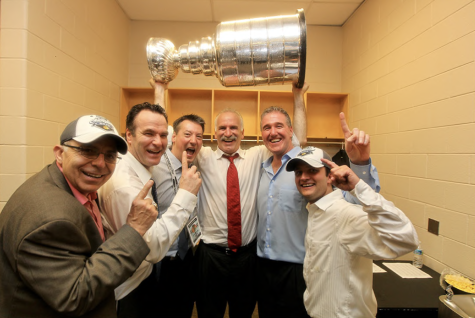 "In the days and weeks that followed, John Doe [Beach] shared information about the encounter with his confidant; the Blackhawks' skating coach (Paul Vincent); and the Blackhawks' mental skills coach (Jim Gary), who was dispatched by Al MacIsaac to speak to John Doe. Gary took information he recalled receiving from John Doe to the senior leaders of the Blackhawks organization. At a minimum, the senior leaders, including then- President John McDonough, were informed of alleged sexual harassment of a player by a coach, including efforts by the coach to engage in unwelcome sexual activity with that player. Several witnesses recalled or later told others about a discussion that ensued during the meeting regarding whether the time was right to address the allegations against Aldrich in light of the need to protect team chemistry and avoid bad publicity during the ongoing playoffs."
Although claiming, "I first learned of these allegations through the media earlier this summer," upon meeting with NHL commissioner Gary Bettman; former head coach and current head coach of the Florida Panthers, Joel Quenneville, who has since resigned from his position indicating there was knowledge of the sexual assault encounter in 2010. 
Not only has Quenneville resigned, but so has the Blackhawks last remaining executives from the 2010 organization: President of Hockey Operations Stan Bowman and Senior Vice President of Hockey Operations, MacIsaac. Former General Manager for the Winnipeg Jets and Assistant General Manager Kevin Cheveldayoff, is the only former executive that is still employed in the NHL after Bettman deemed him to be 'such a minor player in this' and 'had no responsibility' for the Blackhawks' negligence to the sexual assault claims. The Blackhawks have been fined 2 million dollars for "the organization's inadequate internal procedures and insufficient and untimely response," and Aldrich's name has been removed from the Stanley Cup. Both Bettman and the Blackhawks organization issued an apology to Beach.
Coming out as 'John Doe' in an emotional TSN interview, Beach apologized to 'John Doe 2', the Houghton High School player for not doing more. 
"I'm sorry I didn't do more when I could. To make sure it didn't happen to him. To protect him. But I also want to say thank you to him…And because of what happened to him, it gave the power and the sense of urgency to take action. To make sure it wouldn't happen to anybody else. So I'm sorry and I thank you. And I hope at some point, down the road, if he's open to it, I would love to meet him because, unfortunately, we share something in common that's going to be a part of us for the rest of our lives."
The Blackhawks have also fired their head coach Jeremy Colliton along with the assistant coaches, Tomas Mitell and Sheldon Brookbank, due to their 2-9-2 standings in the Central Division.