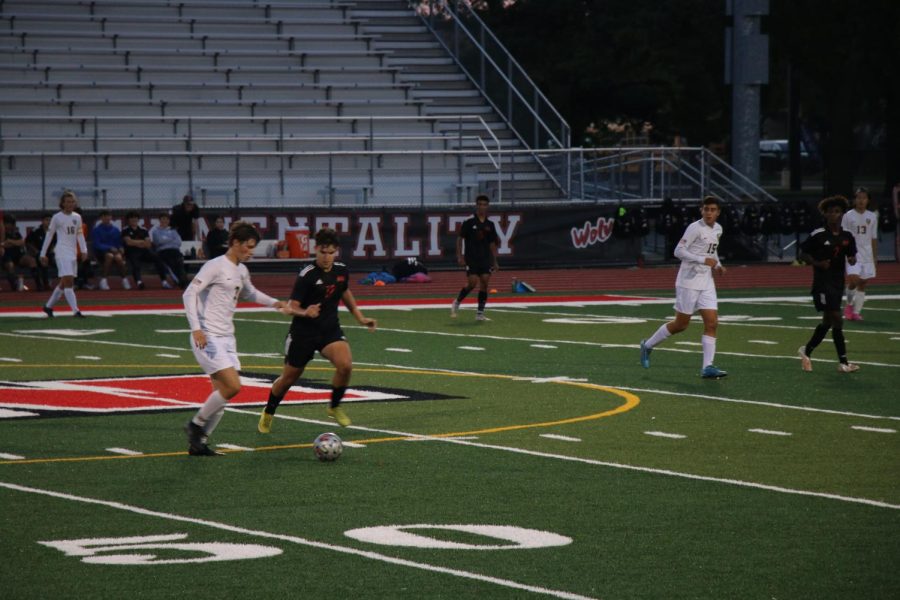 As the soccer season is on its feet, Boys Varsity Soccer is on the turf and the team is ready to play.
The team started off their season when they played Palatine High School back in August. Last Tuesday, was the Wolves' 9th game of the season. The boys played against Glenbrook South here at West. Unfortunately, the wolves had a tough loss against the titans with a final score of 3-1.
The Titans started strong scoring the first goal of the game. Then, GBS scored yet another goal. However, the Wolves took that as motivation and gained their confidence back on the field.
"In the game last Tuesday against GBS, we started off playing very defensively and didn't allow them to score early. However, our formation fell apart later in the game and GBS was able to pass the ball in dangerous areas which caused them to score 3 goals. Unfortunately, we didn't connect enough passes on offense and only scored 1 goal in return," senior Mario Brancato said.
Next thing you know, right before halftime a goal made was by sophomore Dagem Gashaw. "They were a really tough opponent. I think overall we played better but we had moments where we clicked off and the other team took advantage of that. It was our first conference game so we have many more games to turn this around," Gashaw said.
"We went down 2-0 early in the game but scored a goal to keep us in the game before halftime. We had two or three chances throughout the second half to get the equalizer, but couldn't capitalize on the opportunities," senior captain Evan Baxevanakis said.
The Titans then scored a goal with four minutes to go in the game to seal off their victory.
Though the Wolves lost this game there are many more games left of the season, and fans hope they will continue to work hard and bring on more victories.
The team will take on the Maine South Hawks this Tuesday at Maine South. The game will start at 7 p.m. Best of luck to Boys Varsity Soccer this Tuesday!