The Basics of Baum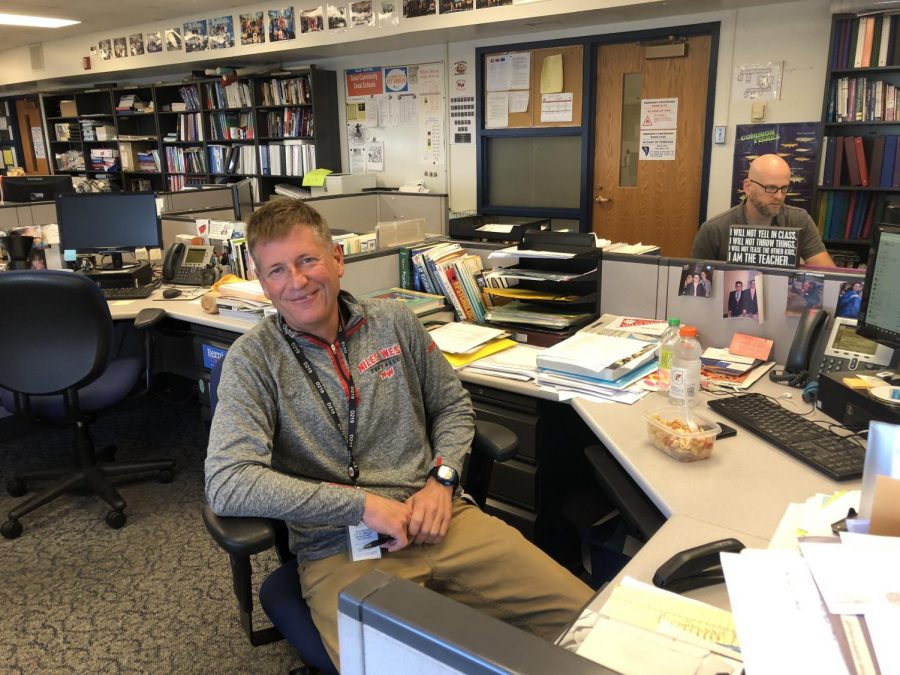 Psychology is a large philosophical field involving the inner workings of the mind. One can only wonder what transpires within the mind of a psychology teacher. In his thirteen years working here, social studies teacher Scott Baum has certainly found his niche.
After working at De La Salle High School, Gordon Tech High School, and even a grade school, Baum was left unsatisfied with his work in teaching. But once he took a Social Studies and football coaching opening at West, he knew it was the right fit.
"Niles West is a school that gives every student a chance to work hard and succeed," Baum said. "There [are] so many different personalities among the teachers, students, and administration, that you can come here and find your niche anywhere."
Baum has always had a love for helping children and guiding them on a stable path.
"Growing up, I always had teachers who taught me what to do and what not to do. I had teachers I wanted to be like and teachers I didn't want to be like," Baum said. "Working with kids definitely isn't for everybody, but it definitely works for me."
Baum's dedication to seeing his students succeed and passion for teaching does not go unnoticed.
"Mr. Baum truthfully exemplifies a model teacher whose greatest desire is to see his students succeed," former student and senior Katerina Paulos said. "He makes class super fun and interesting, and overall just has a positive vibe."
Baum's skills with this generation's youth span out much farther than just the classroom. He has left a permanent mark on the football program here at West.
"Baum was a great coach," senior and former player Hayden Kipp said. "He made our team feel more like a family. When I played for him sophomore year, he was one of the funniest coaches I've ever had, but he never let that get in the way when it was time to get down to business."
Baum's love of raising kids extends to his household as well, where he raises his own.
"Outside of school, my hobbies are my kids and my to-do list, the things my wife tells me to do," he said.
Baum is a passionate member of our faculty here at West who has dedicated a majority of his life to making the lives of the next generation better.
"My favorite part of this job is that there are no two days or periods that are the same," Baum said. "It could be me, it could be the kids, it could be adults in the building, but it seems like every day is brand new, even though I'm teaching the same things. That's what I love about this job."