Located in the northeast side of Morton Grove, Pistachio is a dessert shop and cafe that serves a variety of Middle Eastern desserts, such as Baklava and Knafeh, traditional American desserts, like crepes and waffles, and drinks, like lattes, mojitos, frappes and much more.
Similarly to Melt n Dip, located in Niles, and Drip-Dessert Lounge, in Chicago, some of Pistachio's desserts can be lathered in different types of chocolates, including milk, dark and white chocolate. However, what sets Pistachio apart and makes it unique in comparison to other dessert places is the wide variety each type of dessert has. For example, the fan-favorite 'lokma,' which is an Egyptian dessert consisting of small, fried pieces of dough, can be ordered in numerous different flavors: mixed chocolate, Oreo, Kinder Bueno, biscoff, Nutella and of course, pistachio. This is regular among the other desserts as well, like their crepes, waffles and waffle sticks (yeah, they're two different items on the menu).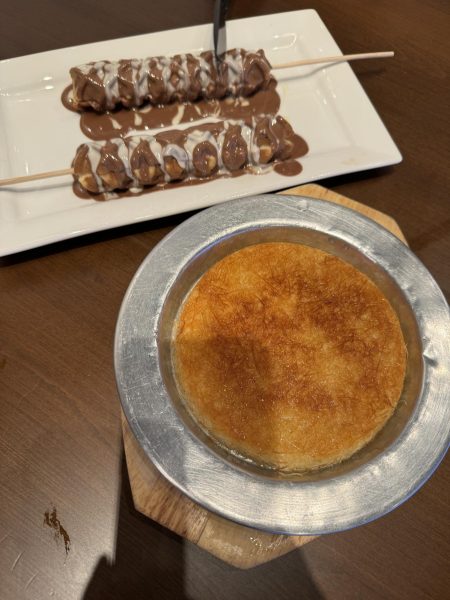 In addition to their traditional desserts, Pistachio also offers Middle Eastern desserts: lokma, knafeh and baklava. Knafeh, pronounced 'ki na fuh', is a Middle Eastern dessert made with shredded filo dough crust and cheese, drenched with a sweet syrup. Baklava is another Middle Eastern dessert made with layers of filo pastry and syrup. While all the lokma is served in a bowl, the knafeh and baklava may be ordered with ice cream on the side and in various portions: personal size or family size. The restaurant also offers a wide assortment of drinks to choose from, ranging from standard flavors like chocolate, vanilla and mint chip, to more unique flavors like white chocolate raspberry, cookie monster and wildberry. The restaurant also offers an array of drinks if you're simply not in the mood to grab a bite. From hot and iced lattes and frappes to smoothies and mojitos, Pistachio has it all. 
The spot is set up in the corner of a plaza, but that does not take away from the inviting atmosphere. The restaurant offers outdoor seating when the weather permits and indoor lounging with various paintings and decor pieces. The 'kitchen' or the place where all the magic happens is open to public view, encompassed by glass, so customers can actually see the workers prepare their order.
Now, even though I'm not a dessert person and don't have a sweet tooth at all, I do really enjoy some of Pistachio's desserts. In particular, the biscoff lokma with white chocolate drizzles on top, the personal knafeh, which I can definitely finish all by myself, and the pina colada smoothie are definitely my favorites. Overall, I'd rate this spot a solid 8.5/10 and would definitely recommend others to try it, especially those who favor sweets.