"Heist Society" Steals Your Attention
By Mara Shapiro
January 13, 2012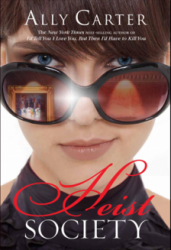 A good author, like Ally Carter (creator of the "Gallagher Girls" series), puts you into the world of the characters in her book and makes you never want to leave, or wish that there are at least two more sequels after the first. Carter made me feel this way in her novel "Heist Society," about a group of teenage thieves doing everything in their power to save one of their own.
Katarina Bishop is a sophomore at the prestigious Colgan school. She is in a predicament, though. Someone has pulled a prank on her headmaster's expensive car and framed her. Inevitably, Kat is kicked out of the school because nothing she can say will make her headmaster believe her. 
In reality, if she ever desired to damaged the car, she would have never been caught. The reason for this is that Kat belongs to a family of thieves. Her family has stolen artwork, jewels, you name it. And Kat has been a part of the family business ever since she was 3, so a petty prank is kind of beneath her. Kat finally left "the life" to be a regular teen and now she's been set up, but by who?
Kat later finds out, as she leaves school grounds in a limo, that her gorgeous best guy friend, Hale, pulled off the prank with her equally gorgeous and prissy cousin Gabrielle. Both are teenage thieves like Kat. Kat needed to be "kidnapped", so to speak, because her father has apparently angered the wrong man: Italian bad guy, Arturo Taccone. A copycat  has stolen some paintings from Taccone using her father's techniques. Despite the proof Kat's father has that it wasn't him, Taccone doesn't that he's innocent and if Kat doesn't get back the paintings in a week's time, her father will be sleeping with the fishes…literally (Taccone has a moat).
Now it's up to Kat, Hale, Gabrielle, the cute new pickpocket Nick Smith, and a boatload of others to get the paintings back. This might even mean breaking into the Henley, England's most famous art museum, disobeying Uncle Eddie's orders (the Godfather of the family), and using an old thief code only used when the thief means serious business.
I honestly loved this book. Kat has become one of my favorite heroines. She is smart, witty, and very, very cunning. Hale is one of the most crush-worthy fictional men I've ever read, and you can't help but be jealous of Kat that she has both Hale and Nick vying for her affections. The plot was original and full of suspense, with a few laugh-out-loud moments thrown into the mix. My only issue was that the ending was a bit cheesy, and there were some few loose ends that I wanted to be tied up. I also wished for more plot twists, but beggars can't be choosers. Overall, "Heist Society" is a winner.
The sequel is entitled "Uncommon Criminals", and "Heist Society" is currently being adapted into a movie.