Students to Compete in Poetry Out Loud Contest
By Fatima Farha
February 13, 2012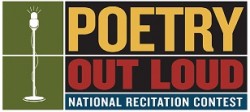 This year's  Poetry Out Loud school competition is scheduled to be held on Tuesday, Feb. 14 in the cafeteria after school.
Poetry Out Loud is a competition between students nationwide. It consists of students reciting and performing poems with the correct pronunciation, emotion, and movement. Many high schools across the country participate in this competition; however, it first starts with small classroom competitions in each school, choosing the best three or four students from each English class to participate in the school competition. The school competition's winners then proceed to the regionals, and then to state, and finally to nationals. The students are expected to memorize and recite the poem in an efficient way  in order to express the poetry.
"When a student understands the poem and memorizes it, they possess a body of knowledge that no one can take away from them," said English teacher Tamara Jaffe-Notier.
The students participating in the school competition are advised and critiqued by their English teacher. The teacher tells them which poem to do or not to do as well as how to perform it.
"We met up with [Swanson] once a week already and she's a great help with like critique and what not…for me she told me where to slow down and where to put on emphasis on certain words. She also told me where to put my hands since I tend to talk with my hands a lot," said sophomore Lynn Vo, who is competing in the school-wide competition.
Last year's school-wide winner was junior Sarah Meehan.