Niles West Theater Puts on Two Plays in One Week
By Mara Shapiro
October 1, 2010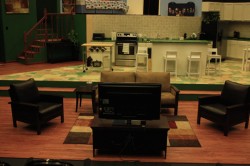 Niles West Theatre is trying something new with the first two plays of this 2010 season. The plays Steel Magnolias and Rabbit Hole will run together in the Blackbox Theatre today through Saturday, October 9.
Though the plays run through the same week, they aren't performing at the same times. Rabbit Hole and Steel Magnolias started on Thursday, September 30 with a free community show. Rabbit Hole also shows on Friday, October 1 at 4:00 p.m. and 7:30 p.m and on Saturday, October 9 at 4:00 p.m. and 7:30 p.m.  Meanwhile, the cast of Steel Magnolias performs on Saturday, October 2 at 4:00 p.m. and 7:30 p.m. and Saturday, October 9 at 4:00 p.m. and 7:30 p.m.

"[We are running two plays at once] because the cast is so small [and] we wanted to be able to do more shows so more people can be involved," said junior Anahita Karimi, who plays Natalie in Rabbit Hole.
The plays are expected to attract a wide audience given their different plots. Steel Magnolias is about friendship and trust between six different women in a small Southern town, and it was made into a movie starring Julia Roberts in 1989. Rabbit Hole stars characters Becca and Howie Corbett as an accident changes their lives and rips them apart from each other.
Theatre teacher Andy Sinclair, the director, said the rotating plays are good preparation for professional theatre.
"It's a great opportunity to teach students about repertory theatre," said Sinclair.
Sophomore, and sound crew member for both plays, Annie Pagett said she feels that people who come to the plays will discover new interests.
"People should come to the plays because [they] show different parts of Niles West…. and I think that by having people come to the plays [new opportunities will be opened for them]. And a chance [will be given] to find something that people will be interested in," said Pagett.
The ticket price for students and seniors is seven dollars and ten dollars for adults.  There is a special price of ten dollars (for students and seniors) or fifteen dollars (for adults) to see both plays.