Cultural Round Table Ponders Pop Culture
By Galina Velgach
October 4, 2010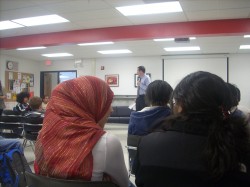 The first Cultural Round Table was held Thursday, September 28 in the student commons. The topic of discussion was "How does American popular culture affect traditional family practices?"
About half of the students who attended the Round Table are in a cultural club. Principal Kaine Osburn called several people up to the front of the room, where chairs were positioned into a half ring.
First, the theme was stated, and then some aspects of American pop-culture were listed, such as music, fashion, dance, movies and television, and food.
Music and fashion, which were discussed for about 10-15 minutes each, were the most discussed aspects of American culture.
"It was insightful, respectful to all cultures, and it was interesting to hear everybody's opinion. I liked how everyone could open up and no one had to hide," says sophomore Belma Prasko.
When talking about music, the conversation branched into a discussion about how other people viewed our own cultural musical preferences. Junior Adrian Carrera, who identified himself as a Mexican-American, said he is offended when people refer to Mexican music as "taco music."
Also, parents' views on modern social customs, such as approvals and disapprovals, were discussed. When talking about fashion, the conversation went deeper to talk about individuals who don't follow social norms and are labeled as outcasts or different.
Then the subject of tolerance came up, and Osburn said, "We can all and should accept each other. Can you imagine what everything would be like if we didn't?"
Director of student activities Jessica Ogulnik said she thinks cultural clubs are important to students.
"International Fest and International Feast are ways for people to express their cultures, especially with immigrants," she said.
The next Cultural Round Table is scheduled for February 7.