Freshmen Learn to Combat Bullying at NAMES Assembly
By Ivana Kosir
October 8, 2010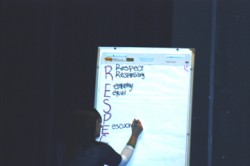 On Tuesday, Oct. 5 and Wednesday Oct. 6, the fifth annual NAMES assembly was held for all freshmen in the auditorium.
Through video clips, guest panelists, and activities, freshmen learned about bullying and its effects on people. NAMES is sponsored by the Anti-Defamation League.
"[We] wanted to teach our students about bullying, name calling, and establish a more respectful climate in our school," student activities director Jessica Ogulnik said.
Freshman Emma Lazar said she agrees that NAMES is beneficial.
"[NAMES] had me think more before I say stuff, and I realize how others feel. It raised my awareness," Lazar said.
According to Ogulnik, "junior high is when kids are most cruel." NAMES helps eliminate the mentality of bullying early in their high school experience.
"It's a reality-check for freshmen," Ogulnik said.
Freshman Bridget Keenan said she thinks that NAMES should be geared towards a younger audience.
"We've heard it so many times before that it's not as powerful. I would recommend they go to middle schools and junior highs," Keenan said.
Even if bullying and name calling will never be eliminated,  Ogulnik said NAMES is an important event for the school.
"[The positive response] doesn't last forever, and kids are still kids, but some students take the message [from NAMES] permanently."
Lazar said she believes that NAMES will have an impact on her at a personal level.
"[NAMES] will help my experience through high school by creating a better environment,"she said.