Comment for a Chance to Win a $25-giftcard to Chill Bubble Tea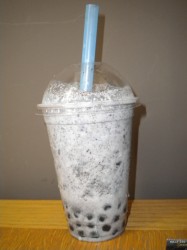 If you drive through Village Crossing you can stop to eat some wings at Buffalo Wild Wings or grab a burger from Red Robin, but the best place to stop for a quick drink fix would be the new cafe that opened earlier this summer, Chill Bubble Tea, 7154 Carpenter Road.  While Chill Bubble Tea may not have the tasty wings like Buffalo Wild Wings or the delicious burgers like Red Robin, they do sell a peculiar drink most people have never heard of, but everyone should try: bubble tea.
Bubble tea is a cold drink concocted of fresh fruits and delicious teas to create a smoothie like drink that is then poured over small, chewy, black balls.  The tapioca pearls are yet another peculiar part of the drink, but they're certainly an original addition to the smoothie-like drinks.
At Chill Bubble Tea you have the option of a Classic Bubble Tea with flavors such as almond, coconut, french vanilla, green tea latte, honeydew, lychee, milk tea, taro, or watermelon; creations with flavors such as cool blue raspberry, cotton candy, mocha bean, or purple Oreo; or Fresh Fruits (more like smoothies) with flavors such as avocado, banana, kiwi, mango, pineapple, pina colada, or strawberry.
If you'd like to order food to go with your bubble tea, you could ask for an adorable cupcake that's displayed right at the front wooden counter behind the glass display.  There are flavors such as blueberry, salted caramel, strawberry, or chocolate.  There's also the option of ordering a Swirl that the menu describes as "all natural frozen yogurt with toppings."
Just as the menu seems with the daring, new drinks, the style of the cafe is original and bold.  As you enter the small cafe it seems open and welcoming especially because of the hospitable staff.  They'll greet you with a "Hey! Welcome to Chill!" as you approach the long wooden counter with the glass display.  Behind the counter is the menu shown as four large posters with the options categorized as Classic Bubble Tea, Creations, Fresh Fruits, or Swirls.
They'll happily take your order and leave you with the next choice: where should you sit?  There's the three swings hanging from the ceiling next to a counter facing out the window, the two brown armchairs with the vibrant red pillows that are seated next to the white three box end table, or one of the six circular glass tables with one side seated as a wooden booth or the other side on a white plastic chair.  The hanging lights and pastel green paint complimented with the grayish brown walls create a open, welcoming atmosphere as you wait for your drinks.
When they call you up to pick up your drink you get to pick a cute pink, yellow, green, or blue straw that's much bigger than your average straw.  Why you may ask? For the tapioca pearls!  The first sip is guaranteed to have a few tapioca pearls in it.  It's definitely a weird experience the first time because the little balls are slippery and chewy- not your average texture for something in a drink.  Personally, I'm not a fan of the tapioca pearls, but I have friends that couldn't imagine a bubble tea without them.  They seem to be a food you'll either love or hate- an acquired taste one may say.
During my latest visit to Chill Bubble Tea, I ordered a Pina Colada Bubble Tea from the Fresh Fruits section with no tapioca pearls.  It was delicious and definitely my new favorite. My friend ordered the Strawberry Shortcake with tapioca pearls that she saw advertised on the glass display.  She loved her drink as well.
"It was like actual Strawberry Shortcake.  It was so good!  Like I didn't expect it to taste that good, but it did!" said junior Jasmin Nieves.
We both left satisfied with our choices in drinks and eager to come back again.  As we walked out the door, the manager yelled to us from behind the counter, "Thanks! Have a great day!" and it was impossible to forget their wonderful hospitality.  I'd definitely recommend Chill Bubble Tea for anyone looking for a good drink.  I think Chill Bubble Tea could definitely give Starbucks a run for its money some day!
Do you want a chance to win a $25-giftcard to Chill Bubble Tea?
To enter the contest, simply leave a comment:
What is your favorite drink from Chill Bubble Tea?
Where is your favorite place to sit?  The daring new swings or the classic booth with the glass tables?
Comment as much as you would like, but you will only get an entry for your first.
This giveaway is open to STUDENTS ONLY (sorry teachers! NWN staff is not allowed to enter either!)
One winner will be selected via random.org. The winner will be contacted via email and will be announced on Morning Announcements.
Contest ends Wednesday, Oct. 20 at 8 PM.